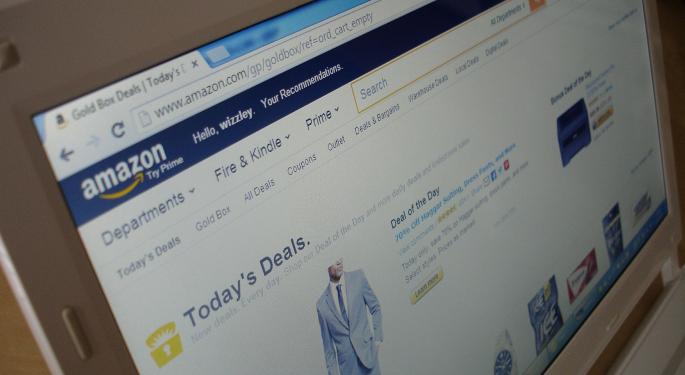 This week, Amazon.com, Inc AMZN 0.1% once again made a new all-time high when it breached the $790 mark. Amazon's market cap of more than $370 billion puts it among the largest companies in the world.
The stock's meteoric rise has been staggering. It took Amazon only about 18.5 years from its 1997 IPO to breach the $300 billion market cap threshold in 2015.
Fasters Than Others
To put that rise in perspective, it took General Electric Company GE 0.24% more than a century to hit the $300 billion mark. Exxon Mobil Corporation XOM 1.08% did it in a speedy 90 years. It took Johnson & Johnson JNJ 0.18% just over 70 years from its IPO date. Apple Inc. AAPL 2.58% needed about 30 years.
Related Link: Alibaba Crosses $100 For First Time Since January 2015
Yet despite Amazon's spectacular ascension since its IPO, some of its mega-cap peers made it to the $300 billion mark even faster.
Slower Than Others
Warren Buffett's Berkshire Hathaway Inc. (NYSE: BRK-B) beat out Amazon by a matter of months by hitting $300 billion about 18 years after its 1996 IPO. Microsoft Corporation MSFT 0.31% hit the $300 billion target during the early stages of the Dot-Com Bubble, just 12 years after its 1986 IPO.
Cisco Systems, Inc. CSCO 0.94% was another 90s tech stock that rode the Dot-Com wave to a $300 billion market cap less than 10 years after its 1990 IPO. Today, Cisco's market cap is only $158 billion.
Alphabet Inc GOOGL 0.53% edged out Cisco by hitting $300 billion about nine years after its 2004 IPO.
Ironically, after one of the most negatively-received IPOs in history, it took Facebook Inc FB 0.59% only about 3.5 years from its 2012 IPO date to reach a $300 billion market cap.
Of course, the valuation of these companies varied significantly at the time of their IPOs, and Facebook already had a market cap above $100 billion when it hit the market.
There's no question that Amazon's rise has been spectacular. Amazon shareholders are hoping that the stock's next 18 years will be just as good.
© 2016 Benzinga.com. Benzinga does not provide investment advice. All rights reserved.