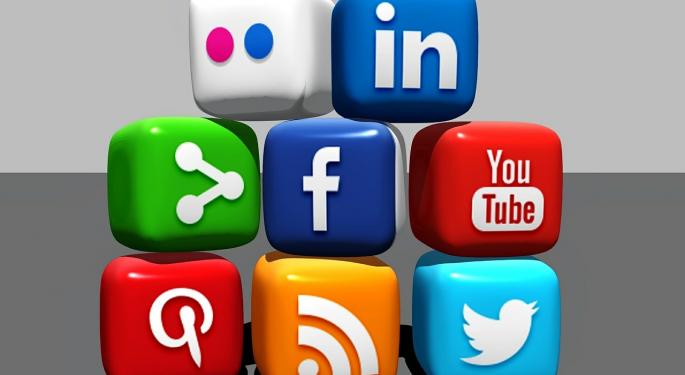 Trip Chowdhry of Global Equities Research sees "misdirected optimism" for Facebook Inc FB 0.55% and LinkedIn Corp LNKD 1.1%.
Chowdhry said he is concerned with the monetization aspect of Facebook, despite acknowledging it as the "strongest social engagement platform."
The analyst noted that investors may want to recheck their investment thesis on Facebook, as it is possible that the "same advertisement dollars are probably circling among Facebook and Instagram, with somewhat less incremental net advertisement revenues."
"At a particular Unit (Instance) of Time, that Particular person is either on Facebook, or on Instagram or on WhatsApp...we are increasingly getting worried that some investors may be getting too optimistic on FB...because that Optimism can only play itself out ­ if that particular person is simultaneously on Facebook, and Instagram and WhatsApp...and this is not possible," Chowdhry wrote in a note.
Related Link: Bob Peck Cautiously Optimistic On LinkedIn Ahead Of Q1 Earnings
On LinkedIn, Chowdhry cited weaker engagement levels on the professional network, with revenue catalysts and secular growth trends are absent, which may concern long-­term investors.
Commenting on the opportunities from Olympics and U.S. elections, the analyst said both events may act as a short-term catalyst for Twitter Inc TWTR 1.48% and Facebook "as both these platforms provide the best discoverability, amplification and applause rates."
However, Chowdhry said these events are less of a catalyst for YouTube, a unit of Alphabet Inc GOOG 0.63% GOOGL 0.91%.
"[T]he only value addition for YouTube is time­shifting, and not amplification and applause," the analyst added.
In addition, Chowdhry is bearish on Pinterest, saying "The best is over for this company."
"[T]his junk is valued at $11 Billion in private markets...when all is said and done, this company is not even worth $1 Billion...and like it has happen [sic] with many past Junk IPO's [sic], the private investors will try the Public investors to bail them out," Chowdhry elaborated.
Chowdhry also released his social media engagement tracker under which Facebook constitute for about 50 percent of the total followers, followed by Twitter with around 32 percent followers, Instagram with about 15 percent of followers. LinkedIn and YouTube both account for about 1 percent of followers each.
At time of writing, shares of Facebook were down 0.80 percent to $109.68, while LinkedIn were up 1.26 percent to $120.95.
Read more: http://www.benzinga.com/analyst-ratings/analyst-color/16/04/7878870/chowdhry-sees-misdirected-optimism-at-facebook-linkedin#ixzz46rqWH2YK