Investment idea - UnitedHealth

18 march 2015
UnitedHealth Group (UNH), a leading US health insurance and medical care company, recently held an investor meeting, at which it outlined the following growth drivers:
- The company continues to deliver double-digit growth. According to the guidance for Q4 2014, revenue increased by 7.4% y-o-y to USD 33.43 bn, outstripping expectations by 0.9%. This was due to the positive performance of its pharmaceutical unit, Optum, where revenue jumped 23% y-o-y to USD 12.88 bn. Operating profit rose 12.8% y-o-y to USD 2.76 bn, while operating margin totaled 8.3% (+0.4 pp y-o-y). Adjusted EPS climbed to USD 1.55 (+9.9% y-o-y), outpacing the median forecast by 3.3%.
- UnitedHealth generates a significant cash flow, allowing the company to buy back its own shares and pay generous dividends. Operating cash flow amounted to USD 8.1 bn (+15% y-o-y), which allowed the company to spend USD 4 bn (+26% y-o-y) for the buyback program and USD 1.4 bn (+29% y-o-y) for dividend payouts. Dividend amounted to USD 0.375 (+34% y-o-y), implying a 1.3% dividend yield.
Strong results for Q4 enabled the company to give an optimistic financial outlook for 2015. According to UnitedHealth's guidance, revenue will reach USD 140.5-141.5 bn (up 7.7%-8.4% y-o-y), EPS is likely to climb to USD 6-6.25 (up 5.3%-9.6% y-o-y). Operating cash flow will amount to USD 8-8.4 bn.
Forecasts of UnitedHealth indicate that the Obamacare program will continue to put pressure on the segment of health insurance companies, albeit on a smaller scale. It seems that the company is gradually adapting its work amid strong regulation. Optum will continue to be the growth driver for financial performance. Notably, UnitedHealth traditionally makes rather conservative financial forecasts and often outpaces them.
I remain optimistic about the growth prospects of UnitedHealth, given high diversification of the company's business, its focus on improved efficiency, strong management and a considerable share of rapidly growing business segments. All of this allows the company to deliver steady growth in financial performance. I also believe that competent management, along with a strong balance sheet and high cash flows will support the expansion plans of UnitedHealth and will allow it to further strengthen its market position. I also expect that the company will remain shareholder-friendly and will continue to pay out generous dividends and implement a large-scale share buyback program.
I raised UnitedHealth's share target price to USD 127 and believe that investing in the company is a good mid-term opportunity. The short-term technical target is USD 120.
<!== INSTRUMENT %% %1440% ==!>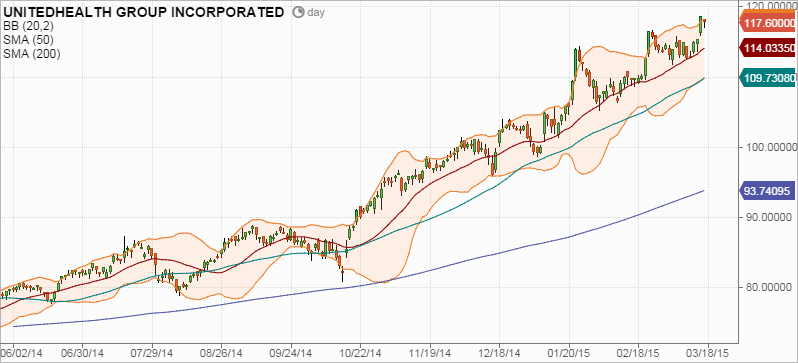 Voting is over
Waiting for


the right answer