As SNAP plumbs new post-IPO lows - currently down another 8% today to $15.60 - the brave souls who are shorting here (as opposed to the proud Millennials who are just puking their longs) are borrowing stock at extreme rates of interest.
The question is - Is SNAP a zero or about to be "Volkswagen'd"?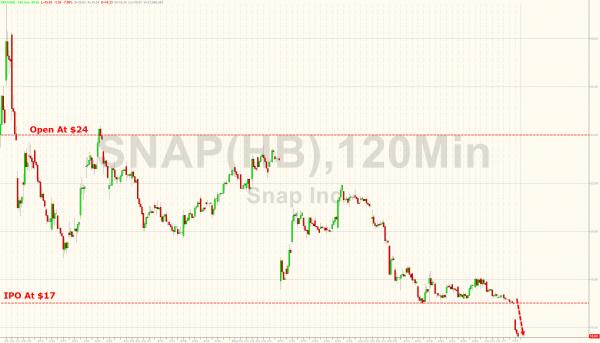 In addition to the 28% of the float that is currently short, around 600,000 shares were shorted in morning trading, according to Ihor Dusaniwsky at S3 Partners, a financial analytics firm. As Reuters reports,
"Snap is one of the most expensive stocks to borrow on the Street right now," said Dusaniwsky.

"For a stock that's that expensive, its quite a lot of demand."
As a reminder, short sellers borrow and then sell stocks they think will fall in value, hoping to profit by buying the stock back more cheaply later on and returning it to its owner.
Investors are paying a 50 percent to 60 percent fee on their total notional short position, or the total borrowed, on an annualized basis to short the stock, with Tuesday's spot borrow rates - meaning the price for anyone shorting it today - going at a 70 percent to 80 percent fee, Dusaniwsky said.

That compares with an annual fee of under 0.5 percent for an easy-to-short stock. Snap is the second most expensive stock to borrow in the U.S. after Sears Holding Corp, Dusaniwsky said.
What does this mean? Simple..
...
More