Shares of Chipotle Mexican Grill CMG are slipping again on Friday, adding to the losses that the stock has suffered during this brutal week, which was marred by a pair of new food safety concerns.
Chipotle fell more than 2% in morning trading today, touching a new 52-week low of $345.75 per share in the process. The stock has now lost nearly 12% of its value over the past five trading sessions.
The downtrend continues as investors remain concerned about the company's latest food safety issues. Earlier this week, Chipotle was forced to briefly close a Washington D.C.-area restaurant after multiple people reported food poisoning symptoms. Only one confirmed case of norovirus was linked back to the Chipotle store in question, but the alleged outbreak put food safety concerns back in the spotlight.
This story got even worse on Thursday, when reports that rodents had gotten loose in a Dallas-area Chipotle started to surface on the internet. Several mice were captured by a customer's cellphone camera running around on the floor and climbing on the wall of the restaurant. While a Chipotle spokesperson stressed that the incident was "extremely isolated," it was certainly not the type of viral moment that investors wanted to see this week.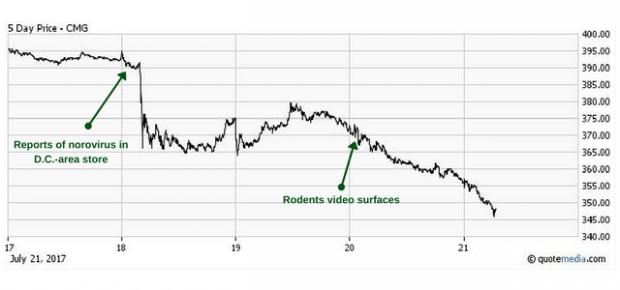 We're also just a few days away from Chipotle's earnings report date. According to our Zacks Consensus Estimates, the company is expected to post earnings of $2.17 per share and revenues of $1.19 billion. These figures would represent year-over-year growth of 150% and 19%, respectively, but these comparisons don't really paint the whole picture. In the prior-year quarter, Chipotle was still dealing with the fallout of its massive food safety scandal, and earnings and same-store sales plummeted.
Nevertheless, an improved earnings report could be the catalyst for some positive momentum right now. However, the sentiment surrounding this report has not been strong recently. Over the past 60 days, we have witnessed a staggering 12 negative estimate revisions for Chipotle's upcoming earnings, and these revisions have dragged our consensus estimate 23 cents lower in that time.
Even more recently, we've watched Chipotle's Most Accurate Estimate—a method of tracking the most current estimates—slip to $2.09 per share. This has given the stock a negative Earnings ESP of 3.69%, and paired with its Zacks Rank #4 (Sell), this is not a good sign headed into its report.
What's worse, we've seen several negative estimate revisions for the company's next-quarter and next-year earnings as well.

Analysts are clearly not optimistic about Chipotle right now, and this sentiment was established prior to the latest string of bad news for the company.
Any positive news that emerges from Chipotle's earnings report could send to stock higher next week, as investors never like to keep a stock near its 52-week low for too long. However, even if Chipotle was able to post an earnings beat, it would be surpassing expectations that have already been significantly lowered over time. This is simply not the type of strong earnings activity we like to see here at Zacks.
Chipotle has hit a big dip, and buying on the dip can give investors a unique chance at some quick profits. But be warned, because there could be more headaches ahead for Chipotle.
For more coverage on Chipotle, as well as several of this week's other major stories, check out the latest episode of the Zacks Friday Finish Line podcast:
Want more stock market analysis from this author? Make sure to follow @
https://twitter.com/Ryan_McQueeney
on Twitter!
3 Top Picks to Ride the Hottest Tech Trend
Zacks just released a Special Report to guide you through a space that has already begun to transform our entire economy...
Last year, it was generating $8 billion in global revenues. By 2020, it's predicted to blast through the roof to $47 billion. Famed investor Mark Cuban says it will produce "the world's first trillionaires," but that should still leave plenty of money for those who make the right trades early. Download Report with 3 Top Tech Stocks >>
Want the latest recommendations from Zacks Investment Research? Today, you can download 7 Best Stocks for the Next 30 Days.
Click to get this free report
Chipotle Mexican Grill, Inc. (CMG): Free Stock Analysis Report
To read this article on Zacks.com click here.
Zacks Investment Research