Exxon Mobil (XOM) has been bullish in 2016, but found resistance at 95.55 earlier in July. The daily chart shows that the retreat from 95.55 has been very persistent and has broken the 50-day simple moving average and a rising trendline.
XOM Daily Chart 7/29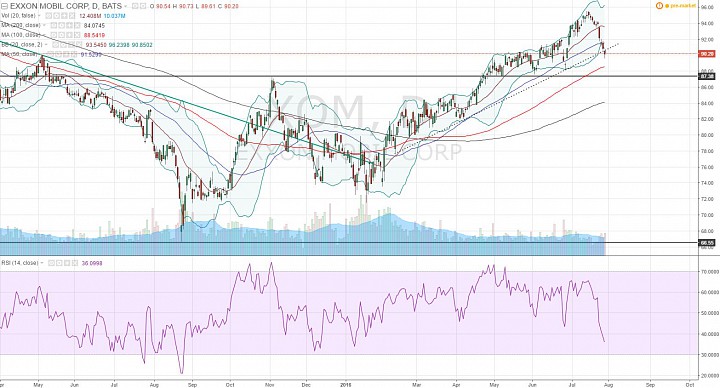 (click to enlarge)
Further decline to test key pivot:
- XOM disappointed with its earnings report for Q2 2016. 
- Price will be around 88 at the start of the US session, which puts XOM near a key support/resistance pivot see in the daily chart. 
- The RSI will also likely dip closer to 30, closer to the oversold territory. 
- The point is XOM will approach a key support and will have oversold conditions.
Should we buy the rumor sell the news? Or in the case of bad news, sell the rumor buy the news?
- I think if price starts to stall around 88.00 and we see a bullish divergence between price and the RSI, we should consider buying. 
- The earnings report seems pretty bad, so we might see some pressure in August - so be patient in allowing the market to develop more clues of bottoming around 88.00 before taking action. 
- The bullish outlook should be limited in case the 2016-high has been put in at 95.55 - a viable bullish outlook would be 95.00.  
- The most aggressive bullish outlook should be capped at 100.00
Breakout: 
- If price falls below 87.30, it will likely push towards 84.00, where XOM will meet the 200-day SMA and a previous pivot.

Here's a report by TheStreet regarding the latest earnings report form Exxon: 
NEW YORK (TheStreet) -- Shares of Exxon Mobil (XOM) are retreating 2.45% to $87.99 in pre-market trading on Friday after reporting lower-than-expected earnings and revenue for the 2016 second quarter.
Before the market open, the oil and gas producer reported adjusted earnings that fell 59% year-over-year to 41 cents per share, missing analysts' projections of 64 cents per share.
Revenue declined to $57.7 billion in the most recent period from $74.1 billion a year ago and fell short of analysts' estimates of $60.23 billion.
The results reflect "sharply lower commodity prices, weaker refining margins and continued strength in the chemical segment," the company said in a statement. 
Production fell about 0.6% to 3.9 million barrels of oil equivalent per day in the most recent period. (Full article on TheStreet)