Australian released its Q2 inflation report today. The headline CPI reading for Q2 showed inflation at 0.5% compared to Q1, which was expected and was slightly lower than the 0.6% in Q1. 
official release
The annual rate however increased from 2.9% in Q1, to 3.0%.
Inflation has been getting faster since the 1.2% y/y rate reported in Q2 2012. The "target rate" is 2.0% for the RBA. At 3.0%, the RBA will be pressured to raise rates, the prospect of which has upside pressure on the AUD.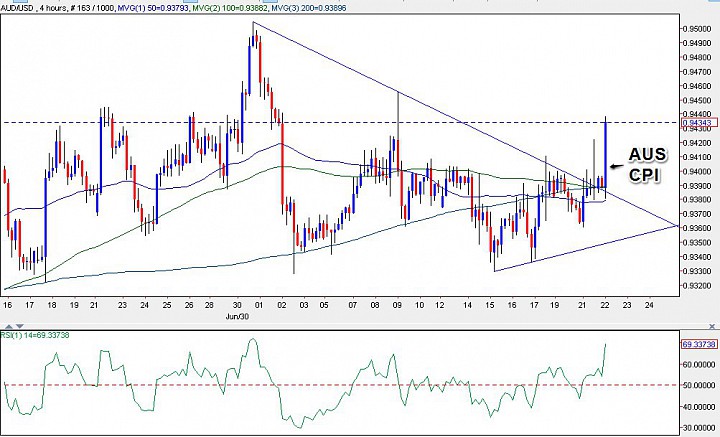 There is a breakout in the AUD/USD, above July's falling trendline, and signaling a bullish continuation scenario (since the previaling trend was bullish before the consolidation in June-July.) 
As the RSI pushes above 70, and price the 0.9440-0.9450 area, we should expect some near-term resistance and bearish attempt. Then if price can hold above 0.94, and the 4H RSI above 40, the case for a bullish outlook will be even stronger.