Why Is Medivation a Good Acquisition Target?
Medivation for sale
Medivation (MDVN) expects its non-generally accepted accounting principles revenue to cross $2.5 billion by fiscal 2020 from $695 million in fiscal 2015. This would reflect an ~29% compound annual growth rate over the next five years.
Recently, Medivation rejected Sanofi's (SNY) acquisition offer. The proposed price was 21% lower than Medivation's 52-week trading high. Read Why Did Medivation's Share Price Increase so Much after Earnings? and Is Sanofi Trying to Acquire Medivation? for details on the acquisition.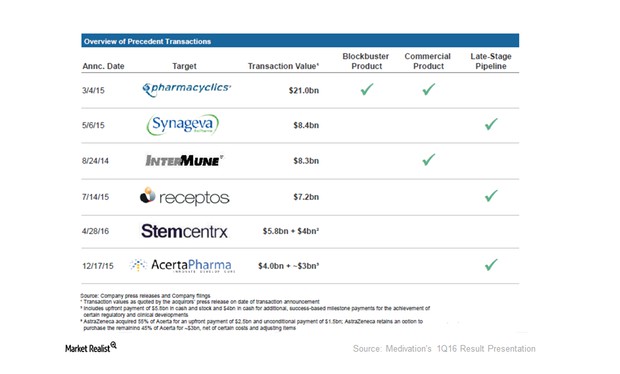 How much should Medivation get?
The above chart shows recent acquisitions in the oncology space. Medivation thinks that Pharmacyclics is comparable in a partial sense...
More