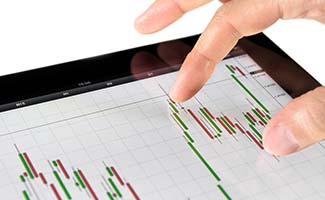 VR or virtual reality is still in its infant stages, with many companies still developing and refining just what it means to bring a VR experience to reality. With an active competitive landscape, variation among technologies, and a chance for investors to get in on the action, here's a list of a few major NYSE/NASDAQ stocks in the virtual world:
Facebook- Oculus Rift ( FB )
What started out as an independent company funding their tech through a Kickstarter campaign, has now turned into the virtual reality arm of Facebook, after it was acquired in 2014 for $2BN dollars. Since then, Oculus Rift has had both the funding and exposure to turn into one of the biggest VR firms out there, in partnerships with Audi, the Norweigian Army, and Minecraft . You can grab one for only $350 dollars.
Google VR ( GOOGL )
The name isn't that creative, but Google VR is another big player from the newly renamed Alphabet Incorporated. Unlike some competitors in the space, Google VR is applying the technology for mobile use with it's very cost-friendly Google Cardboard (the basic design only costs $15 bucks), which can turn any smartphone into a VR headset with just a cardboard box and lenses. They also have a VR camera rig called Jump, but that's going to run you a bit more money .
Microsoft...
More