The AUD/JPY is in an interesting spot (similar to the EUR/AUD perhaps, except flipped upside down) as it has managed to reel off a 240 pip rally since last Wednesday, and now smacks into the important 89 handle it was unable to push through on August 2nd.
First, lets have a look at that level from a longer term perspective with the 4-hour chart: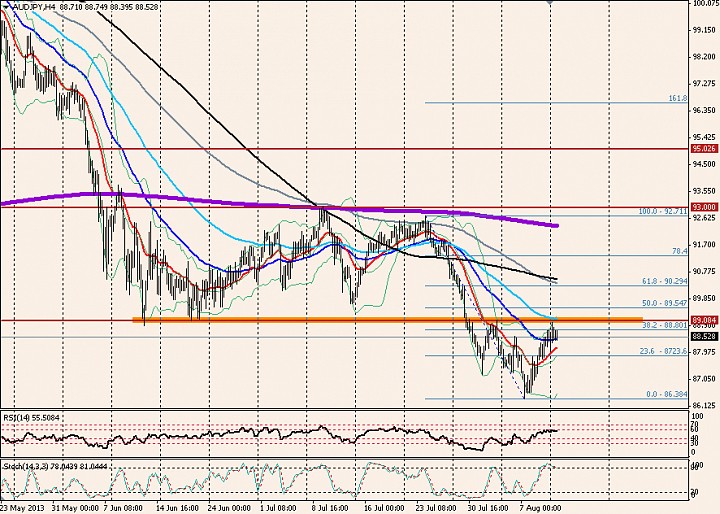 We can see that this 89 handle not only goes back to the start of August, but was actually a key support level back in mid-June, which means it is one of those key "support turned to resistance" levels that hold extra importance.
The retrace from the rally in the 2nd half of last week is about a 38.2% retrace from the latest full downswing (from 92.70 to 86.40). Fairly shallow retrace then.
The RSI in this time-frame has pushed back to the 60 level. If this is a "sell the rally" opportunity, then one signal would be the RSI turning around here at the 60 area. The Stoch indicator meanwhile (which is quicker to get to OB/OS levels and is therefore better perhaps at spotting turns) is in overbought territory and looks lik its turning.
Zooming into the 1-hour time-frame we see the structure of the trendline a bit more clearly.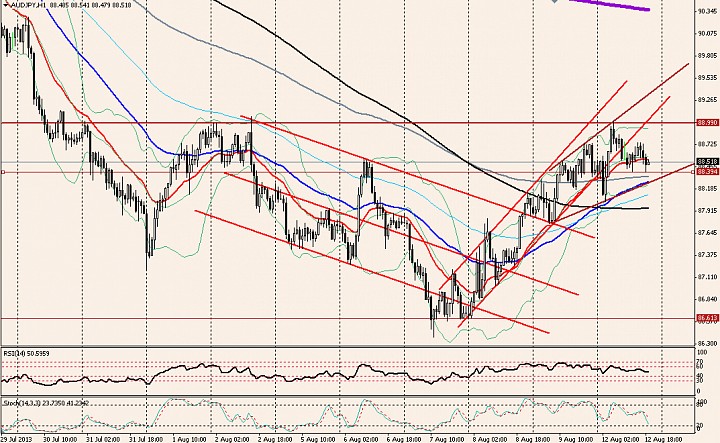 One thing I notice is that the RSI here reached the 70 level but has been falling back since despite prices going higher, which means a bit of bearish divergence in the making.
The channel formed early on in the rally (orange trendlines) has been broken, so the slope of our rally has slowed (brown trendlines).
We have an important local pivot now at the 88.40 area, as well as the 200-EMA (gray), the 55-EMA (blue) and the 200-SMA (black) just below all with the potential to act as support.
The question then is does the 89 handle hold enough sellers, or do events this week,  that we see a continuation of downtrend we see in the long and medium term? Or is this rally for real, and we pierce the 89 handle and are off to the races to the topside as shorts in this pair will have to cover?
Currently I'm leaning towards the former, but I will wait for a break of the local pivot and the 55-EMA (and adjacent trendline) to break before I consider the short-term uptrend to be over.
- Nick