Anna Kalmykova, Analyst, Global Markets (Finam)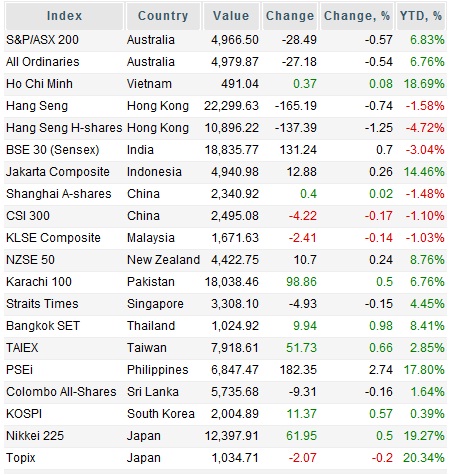 On Friday, March 29, Asian equities traded higher taking their cue from US and European markets, which closed in positive territory on Thursday. Japan is anxiously awaiting next week's BoJ meeting, at which monetary authorities are to announce bolder stimulus efforts. Meanwhile, most exchanges are shut for Good Friday holiday today. Regional macro data were downbeat but did not dramatically affect the outcome of trading.
According to preliminary data, Japan's factory activity dropped 0.1% in February, while markets had anticipated a rise from 0.3% a month earlier to 2.6%. At the same time, Japanese industrial players expect March readings to show an improvement, which slightly offset negativity stoked by macro releases. The country's unemployment rate climbed to 4.3% in February, while analysts, on average, had projected no change from January's 4.2%. Meanwhile, industrial output in South Korea shrank 0.8% m-o-m in February vs. a growth forecast of 0.2%, following a 1.5% decline m-o-m in January. A bright spot was an increase in Japan's business activity index for March to 50.4 compared with February's 48.5.
Recapping the benchmarks, the regional MSCI Asia Apex strengthened 0.28% to close at 881.06. China's CSI 300 gave up 0.17%, Japan's Nikkei 225 added 0.5%, and South Korea's KOSPI edged up 0.57%. Hong Kong, Australia, New Zealand, India, Indonesia, Singapore, Philippines and Sri Lanka were closed for a public holiday.
Chinese utility players topped the list of gainers, while healthcare companies were in retreat. Huaneng Power and GD Power jumped 1.6% and 1.7%, respectively, while China Resources Double-Crane Pharmaceutical, Shanghai Fosun Pharmaceutical and Kangmei Pharmaceutical sank 5.6%, 3.8% and 3%, respectively.
Despite favorable prospects for the Bank of Japan meeting, domestic financials came under pressure on Friday, with Mitsubishi UFJ Financial Group and Daiwa Securities Group shedding 1.1% and 0.9%, respectively.
Japan's electronics producer Panasonic tumbled 7.1% after the company announced plans to dispose of its loss-making units as part of a restructuring plan. Another industry player Sharp advanced 1.5% on media reports about projected layoffs.