Carmaker chief discussed 'conceptual' benefits with cousin
Board at first rejected idea amid SUV manufacturing challenges
It was February when Elon Musk suggested to his cousin that they merge their companies, Tesla Motors Inc. and SolarCity Corp. -- three months before the electric-car maker sold $1.4 billion in stock in a secondary offering and four months before Musk made a public marriage proposal.
Musk, Tesla's chief executive officer and SolarCity's chairman and largest shareholder, had the discussion with SolarCity CEO Lyndon Rive sometime before Tesla's board was briefed on the idea on Feb. 29, according to a document filed with the Securities and Exchange Commission Wednesday.
What the filing shows is that Tesla directors had considered the wisdom of a union with the financially struggling SolarCity when the company made its May stock offering, but didn't let buyers know such a deal might be coming. Tesla declined to comment beyond the filing.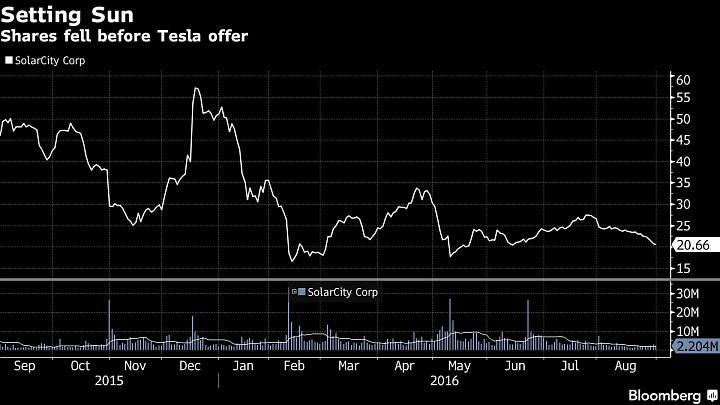 "We are concerned that the merger is not being negotiated in the best interests of shareholders, and this lack of transparency deepens those worries," said Dieter Waizenegger, executive director of the CtW Investment Group, which represents union-sponsored pension funds that holds Tesla shares. "Tesla should have likely disclosed the potential merger before its secondary offering. By not doing so, the company is raising troubling questions that demonstrate why greater accountability and independence is needed at the board level."
Cash Needs
The prospect of combining the companies has been controversial, with some shareholders in such opposition that they sold their stock. Tesla fell more than 10 percent on June 22, the first trading day after Musk announced the plan, now valued at $2.3 billion, which he called a "no brainer."
A concern among analysts is that SolarCity, which makes and installs solar-power systems, burns through cash and had $3.35 billion in debt at the end of June. Tesla also spends a lot, as it tries to fund new cars like the Model 3 sedan, billed as the company's first...
More