While many traders are understandably fixated on finding the next great unknown stock, seasoned investors know that sometimes our best stocks come from the tried-and-true brands that we all recognize. In the broader consumer electronics space, one of those legacy brands is Nintendo NTDOY.
Since the earliest days of video gaming, Nintendo has been a dominant and innovative force. The company's consoles revolutionized in-home and mobile entertainment, and its portfolio of franchises includes some of the world's most popular games and characters.
Nintendo has also been one of the hottest stocks on Wall Street this year. NTDOY is currently sporting a Zacks Rank #1 (Strong Buy) and is flirting with its 52-week high, but the stock could be poised to break higher.
Want to know why? Let's take a closer look.
Fundamentals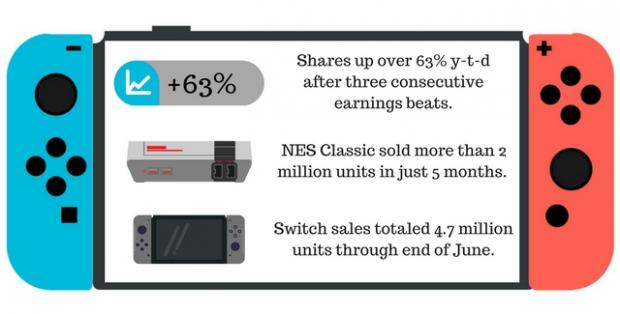 Nintendo's incredible year on Wall Street is owed directly to the insane performance of its hardware and software. The company's new Nintendo Switch has been flying off the shelves, and the popularity of exclusive games like The Legend of Zelda: Breath of the Wild has helped the console become one of Nintendo's hottest-selling devices to-date.
Nintendo was also able to cash in on nostalgia with the release of the NES Classic, a replica of its original Nintendo Entertainment System that came pre-loaded with retro games. In just five months, the device sold more than 2 million units and was far more popular than Nintendo expected it to be.
Supply chain headaches caused Nintendo to discontinue the NES Classic earlier this year, but the Super NES Classic is scheduled to be released in September, just in time for the important holiday season.
Nintendo will face some tough competition during the holidays, as Sony's SNE PlayStation 4 is still red-hot and Microsoft's MSFT Xbox One is set for an upgrade. Nevertheless, estimates for the upcoming fiscal periods remain strong.
Looking ahead, current consensus estimates are calling for sales growth of 106% in the September quarter and 81% in the December quarter. For the fiscal year ending in March, our current consensus estimates would reflect EPS growth of over 203% and sales growth of 71%.
Year-over-year comparisons aren't necessarily the most useful in the video game industry, a space that is notoriously dependent on multi-year release schedules. However, Nintendo's sales and profit outlook looks as strong as ever right now.
Estimate Revisions

Of course, the Zacks Rank is heavily reliant on earnings estimate revisions, so the above snapshot is important to note as well. As we can see, estimates have been moving higher for Nintendo's upcoming fiscal periods, which is a good sign for its near-term share price performance.
Again, we want to recognize that the estimates for Nintendo's next two quarters represent strong year-over-year growth, but we also need to acknowledge that these estimates have actually been improving recently. As analyst sentiment continues to improve, this stock should continue to push higher.
Technical Trends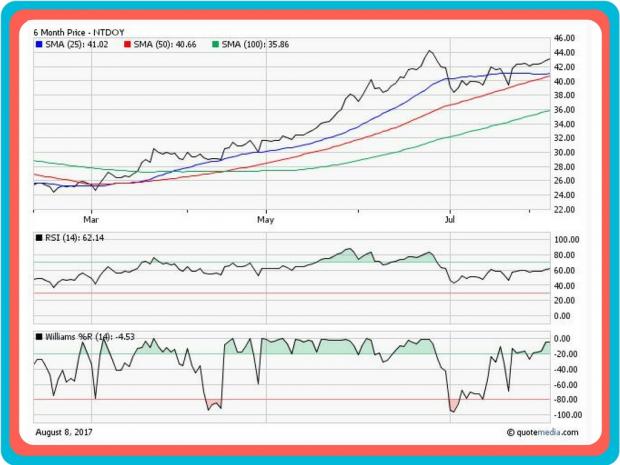 Finally, in an effort to be the most well-rounded investors we can be, it's important to take a look at some technical charts to see if any interesting trends appear. In the case of Nintendo, the stock's nearly six-month rally certainly reveals some noteworthy movements.
In the earliest days of the rally, NTDOY was trading consistently above its moving averages and finding strong support along its 25-day MA line. Throughout the month of July, shares dipped below that short-term moving average, but the stock has since popped back to the top of its range.
And with a rally as strong as this, some investors would probably be concerned about the stock being overbought, so indicators like the RSI and the Williams %R are useful as well.
The stock is approaching or sitting at the traditional "overbought" levels on both of these charts, but it's more important to note that the stock has proven its ability to consistently stay at these levels over the past six months.
Every technical trader will use different indicators and thresholds, but the key is to recognize individual patterns and trends. We aren't seeing any flagrant bullish signals on these charts right now, but NTDOY has displayed several strong patterns over the last six months, which means there's nothing blatantly stopping it from moving higher.
When you consider this technical strength as an added "pro" on top of the company's strong fundamentals and improved estimate picture, it's clear to see why investors are giddy over Nintendo right now.
Want more stock market analysis from this author? Make sure to follow @
https://twitter.com/Ryan_McQueeney
on Twitter!
Looking for Stocks with Skyrocketing Upside?
Zacks has just released a Special Report on the booming investment opportunities of legal marijuana.
Ignited by new referendums and legislation, this industry is expected to blast from an already robust $6.7 billion to $20.2 billion in 2021. Early investors stand to make a killing, but you have to be ready to act and know just where to look. See the pot trades we're targeting>>
Want the latest recommendations from Zacks Investment Research? Today, you can download 7 Best Stocks for the Next 30 Days.
Click to get this free report
Sony Corp Ord (SNE): Free Stock Analysis Report
Microsoft Corporation (MSFT): Free Stock Analysis Report
Nintendo Co. (NTDOY): Free Stock Analysis Report
To read this article on Zacks.com click here.
Zacks Investment Research