Before the Fed's minutes unleashed the biggest stockmarket rollercoaster seen since the summer of 2011, by far the most notable event was Monday's Lehman-like bankruptcy of Apple's sapphire glass producer, GT Advanced Technologies, which without warning, went from a market cap of $1.5 billion to zero in the span of seconds after a market trading halt.
Much to the shock and dismay of its shareholders, none of whom had expected any bad news, let alone a bankruptcy filing, the company decided to add insult to injury when instead of at least providing an explanation why over a billion in equity had evaporated, all it had to say was this:
EVENTS LEADING TO CHAPTER 11 

 

GTAT is facing a severe liquidity crisis due to circumstances that will be more fully described at the hearing on the First Day Pleadings.
The first day pleadings were today and everyone was eagerly looking forward to the biggest instant repricing of risk/value since Lehman bonds went from 80 to 8 in one weekend...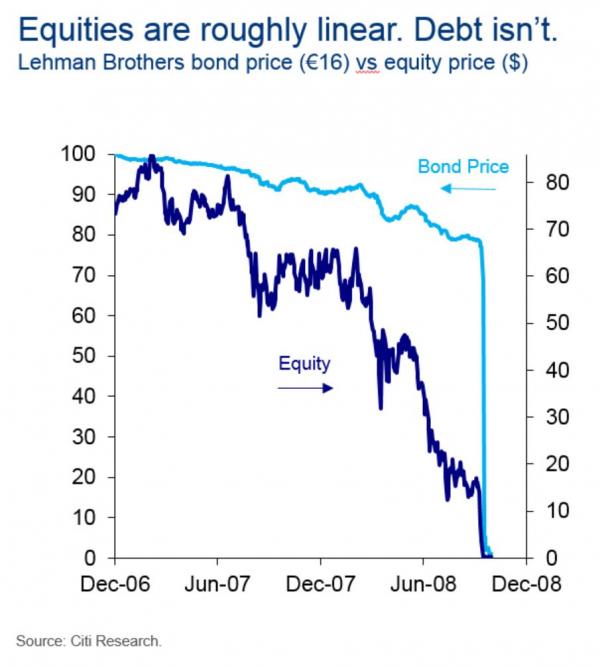 ... in fact this was worse than Lehman - at least there one knew what happened. Instead, in addition to the abovementioned insult and injury, what everyone - and especially the shareholders - got was nothing short of a slap in the face, when the company argued on Thursday it could not reveal why it filed for bankruptcy and asked a court to keep crucial documents sealed, something even Reuters dubbed a highly unusual move that may keep investors in the dark about its unexpected and very spectacular implosion.
The reason why GTAT shareholders have zero rights when it comes to the postmortem of where their money went? Everyone's beloved Apple. As a reminder, GT Advanced inked a deal last year with Apple "that involved outfitting an Arizona factory to make sapphire exclusively for the iPhone maker. Apple, which zealously guards the secrecy of its product pipeline, has been known in general to place strict confidentiality requirements on its many suppliers."
And it is this deal that suddenly shrouded everything having to do with GTAT in absolute secretcy: the company told the U.S. Bankruptcy Court it was barred from disclosures because it was "tied up in knots" by a confidentiality agreement. At the first public hearing since GT Advanced's unexpected Monday bankruptcy filing, a lawyer for the company said the agreement also prevented it from revealing its Chapter 11 game plan.
According to Reuters, Thursday's request underscores the highly unusual nature of the case, starting with GT Advanced's bankruptcy filing which caught everyone from Wall Street investors to Apple itself off guard, something we most seriously doubt as GTAT was merely a barely arms-length sub of Apple, and it is something that happened in the supply chain that caused GTAT to declare lights out.
Lawyer Luc Despins of Paul Hastings told U.S. Bankruptcy Judge Henry Boroff an unspecified confidentiality agreement prevented GT Advanced from disclosing the cause of its bankruptcy, or its turnaround plan. He also acknowledged the 90 percent drop in the company's stock price in the first three trading days of this week.
That said the company is very, very sorry:
"I want to convey to all shareholders and creditors that the company feels terrible about that loss of value and will work every day to recover that value," he said.

 

"That's an aspirational statement, not a guarantee."

 

The judge ended the two-hour public hearing by retreating to his chambers for a private meeting with GT Advanced and lawyers for Apple and the U.S. Trustee, a Department of Justice official who acts as a watchdog in bankruptcy cases.
Clearly, the secrecy surrounding the case is precisely why there is suddenly so much interest surrounding it: just what are GTAT, and by implication Apple, hiding?
Despins said at the close of the hearing the sealing request was complex. "It's like a Russian doll. You open the first one and there are four more in there."

 

Ann Marie Dirsa, a lawyer from the Office of the U.S. Trustee, criticized the lack of disclosure by GT Advanced. "The record is insufficient for the court to find what the court needs to find."
It may be insufficient but not even as US bankruptcy trustee appears willing to enforce the US bankruptcy code when the potential adversary is none other than the world's biggest and most powerful company.
By early afternoon, it was unclear what action Boroff had taken on the sealing motion, which GT Advanced said was needed due to a confidentiality agreement with unidentified party. GT Advanced acknowledged the request might be unprecedented but said it risked damages of $50 million per violation of the agreement.

 

The company will return to court on Oct. 21 to ask the court to make permanent many of the orders that were entered on a temporary basis on Thursday.
And while the general public, or the doughnut-receiving shareholders have no clue what just happened, Apple is already scheming how to obtain the company for pennies on the dollar in the upcoming stalking horse auction:
Industry insiders and Wall Street analysts have been left to speculate. Their musings centered on GT's half-billion dollar deal with the iPhone maker, under which Apple helped bankroll a manufacturing plant in Mesa, Arizona, on the condition that GT hit certain operational targets.

 

Under terms of the deal, Apple said it would provide a total prepayment of about $578 million to help install furnaces and other gear in the factory, which would be owned by Apple and slated to employ more than 700. Apple would then be paid back over five years starting 2015.

 

Apple said on Wednesday that it was surprised with the bankruptcy filing and that it was working with Arizona officials on its next moves
Oh it was surprised, was it? In that case we can't wait for Apple to sign an affidavit in New Hampshire Bankruptcy court where this Chapter 11 proceeding is taking place, waiving all its rights to the contract confidentiality at least allowing GTAT shareholders, among which such brand name mutual funds as Fidelity, to finallize understand how they were duped by the company which went from smashing success to pre-liquidation over a weekend.
Of course, that won't happen. Neither will GTAT provide any further information about its bankruptcy, which furthermore suggests that all of its "audited" financials were also nothing but a farce.
But worst of all, if as we expect will happen, the US Trustee hems and hews and does nothing to demand transparency and clarity, it will confirm what we have suspected all along: in the grand case of Apple Inc vs the United States of America, it is the former that now calls the shots and has all the leverage, and what's worse: is now above the law.