Ecolab Inc. ECL, founded in 1923 and headquartered in St. Paul, MN, is a leading provider of cleaning, sanitizing, food safety and infection prevention products and services. The company serves the foodservice, food and beverage processing, healthcare, and hospitality markets both in the U.S. as well as internationally. Ecolab's 10 operating units have been aggregated into 4 reportable segments, namely Global Industrial, Global Institutional, Global Energy and Other.

Currently, Ecolab has a Zacks Rank #3 (Hold) but that could change following its first-quarter 2017 earnings report which has just released. You can see the complete list of today's Zacks #1 Rank stocks here.
 
Ecolab Inc. Price and EPS Surprise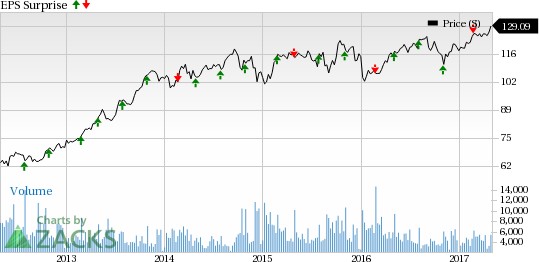 We have highlighted some of the key details from the just-released announcement below:

Earnings: Ecolab posted first quarterly adjusted earnings of 80 cents per share which missed the Zacks Consensus Estimate of 81 cents. However this came higher than the year-ago quarterly earnings of 77 cents.

Sales: Adjusted quarterly net sales were $3.16 billion, up 2% from the year-ago quarter. Also, net sales came in-line with the Zacks Consensus Estimate.

Key Stats: Quarterly results were boosted by robust performance from Global Energy, Global Institutional, Global Industrial and Other segments partially offset higher delivered product costs.

Check back later for our full write up on this Ecolab earnings report later!
 
Sell These Stocks. Now.

Just released, today's 220 Zacks Rank #5 Strong Sells demand urgent attention. If any are lurking in your portfolio or Watch List, they should be removed immediately. These sinister companies because many appear to be sound investments. However, from 1988 through 2016, stocks from our Strong Sell list have actually performed 6X worse than the S&P 500.
See today's Zacks ""Strong Sells"" absolutely free >>
Want the latest recommendations from Zacks Investment Research? Today, you can download 7 Best Stocks for the Next 30 Days.
Click to get this free report
Ecolab Inc. (ECL): Free Stock Analysis Report
To read this article on Zacks.com click here.
Zacks Investment Research