Having hovered at its lowest level in 12 months in January, February's Markit US Manufacturing PMI printed 54.3 (modestly above expectations of 53.6). Under the covers it is a very different story with New orders dropping to their lowest level since Jan 2014 and employment falling. While the headline will likely steal the day (though initial equity reactions are negative), as Markit concludes, "the rate of economic growth remains well down on last year."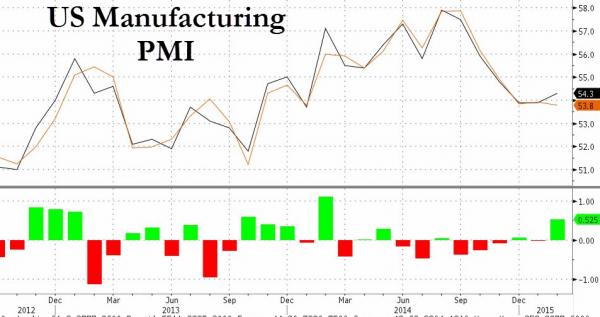 And employment plunged...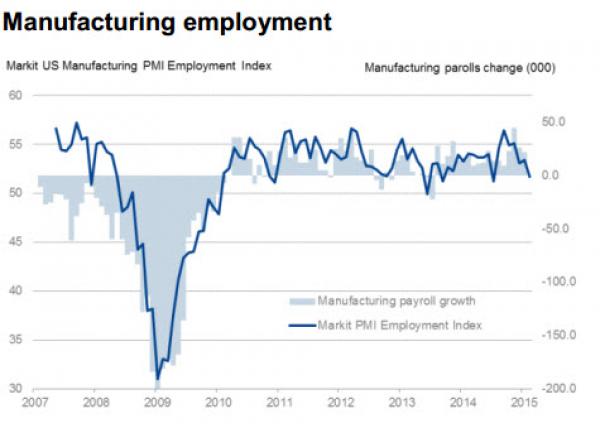 As Markit notes,
"The survey therefore adds to the sense that, while still expanding at a solid pace, the US economy has entered a slower growth phase.

 

February data indicated greater caution in terms of job hiring across the manufacturing sector. Payroll numbers increased only modestly and at the slowest pace for seven months. Meanwhile, manufacturers pointed to the slowest rise in input buying since January 2014 and inventory volumes increased only slightly since the previous month

 

"the rate of growth remains well down on last year's peaks, and a slowing of new orders growth to the weakest for just over a year looks to have caused employers to take a more cautious approach to hiring. Worries over Russia and the eurozone also continue to dampen risk appetite"
And Deflation looms...
"manufacturing costs, now falling at the fastest rate since mid-2012, should help drive inflation down further in coming months and allow policy to be kept looser for longer if needed."
*  *  *
Charts: Bloomberg