Activision Blizzard is the gaming company composed of two main operating units: Blizzard Entertainment and Activision Publishing, and several game development studios, such as Toys for Bob, Infinity Ward, Sledgehammer Games, and Treyarch. The company's strategy is to do a just a few things, but do them exceptionally well. Instead of making a lot of bets across the table and leaving a lot to chance, ATVI scrutinize the opportunities with a tremendous amount of rigor so that everything the company chooses to do has the potential to be a breakthrough entertainment experience. The result has been a remarkable string of the industry's biggest hits including genre defining Activision franchises like Guitar Hero®, Call of Duty®, Skylanders®, Destiny®, and iconic Blizzard blockbusters like World of Warcraft®, StarCraft®, Diablo®, and Hearthstone®.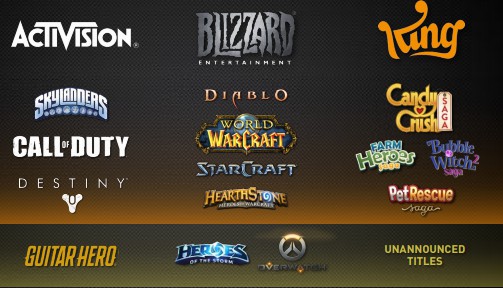 In 2013, the company was restructured and games such as Brütal Legend, Ghostbusters: The Video Game, The Chronicles of Riddick: Assault on Dark Athena, World in Conflict: Soviet Assault, 50 Cent: Blood on the Sand, Zombie Wranglers, Leisure Suit Larry: Box Office Bust and Wet were all dropped from the publisher to be picked up by other companies. As you can see, this strategy paid off, accelerating the growth of the stock.
In 2014, Activision Blizzard was the fifth largest gaming company by revenue. The company joined the S&P 500 on August 28, 2015. The company's strengths can be seen in multiple areas, such as its revenue growth, solid stock price performance, impressive record of earnings per share growth, compelling growth in net income and notable return on equity.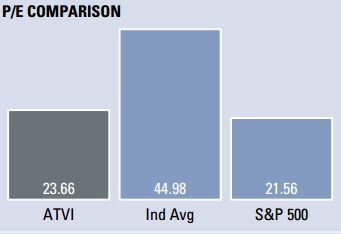 To understand business model and where revenue comes from, the investor have to know through what transitions the company has gone and what key desicsions the heads have taken.
Half a decade ago, the online game World of Warcraft, based on subscriptions, had an absolutely enormous amount of revenue and it was by far the biggest cash cow for the company. The playerbase now is 5.5 million, being close to a third of what it used to be represents a huge loss. Activision is no longer going to be reporting World of Warcraft subscription numbers at all despite the fact 5.5M subscriptions is still a hefty amount of revenue and the game remains the No. 1 subscription‐based MMORPG in the world. If the company now would be the same regardless of World of Warcraft's profits as it was, this would have been akin to the apocalypse for Activision Blizzard. But now the company has a few franchises that generate a lot of cash.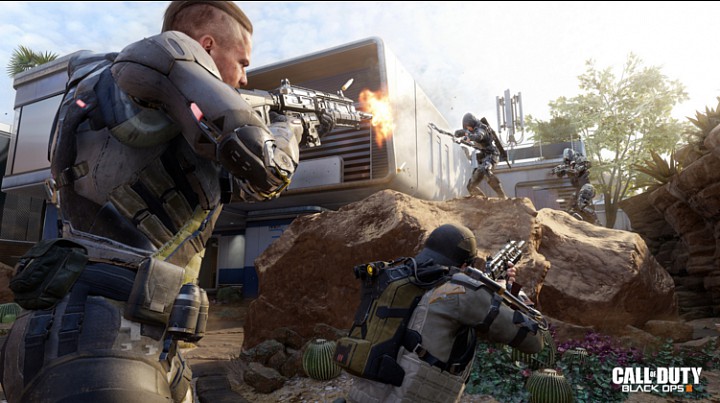 First of all, Call of Duty franchise year-to-date non-GAAP revenues increased by a double-digit percentage year-over-year due to strong catalog sales of Call of Duty: Black Ops, Call of Duty: Black Ops II, and Call of Duty: Advanced Warfare, both for full game and Supply Drops. Call of Duty: Advanced Warfare remains the No. 1 game on next-generation consoles lifeto-date,
as it has been since its launch a year ago.
On November 6, 2015, Activision Blizzard launched Call of Duty: Black Ops III. Within the first three days of its launch, the game generated $550 million in worldwide sales. With this release, Activision Blizzard has the biggest entertainment launch of 2015 so far. It beat the box office record of the Jurassic World film opening. Also, the new title has set a new record for the Call of Duty franchise in engagement, as players had played almost 75 million hours online in the first three days of its launch. Amazon's Twitch (AMZN) reported that the franchise was the number one streamed and viewed game of any game launch in 2015. $550 million during three days is good amount of money, but it should be pointed out that 2012's Call of Duty: Black Ops II generated $500 million in sales after just 24 hours.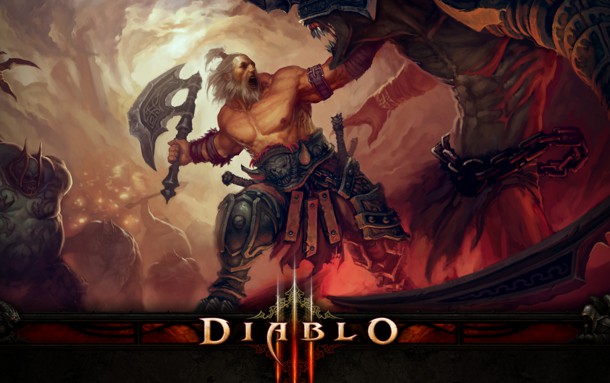 Diablo 3 didn't turn into a revenue stream for Blizzard. But it's still a very healthy franchise. The game passed the 2-million-unitmilestone in China.
Blizzard is putting the lion's share of their effort into three games: Heroes of the Storm, Hearthstone, and Overwatch, two of which are free-to-play with microtransactions, and the third is likely to follow. Heroes of the Storm may not ever topple MOBA king League of Legends, but it makes a good bit of cash for Activision all the same with so many microtransaction options. Hearthstone has been a huge PC and mobile hit with an absolutely insane free-to-paid customer conversion ratio. Also it has continued strength on mobile, and continued strength across geographies, key
engagement metrics grew 77% year-over-year and set a new quarterly revenue record for the
franchise. On October 27, 2015 Blizzard Entertainment began closed beta testing for Overwatch with over 11 million players signed-up to participate, not including China. The Overwatch's universe is going to be huge for Blizzard in the future.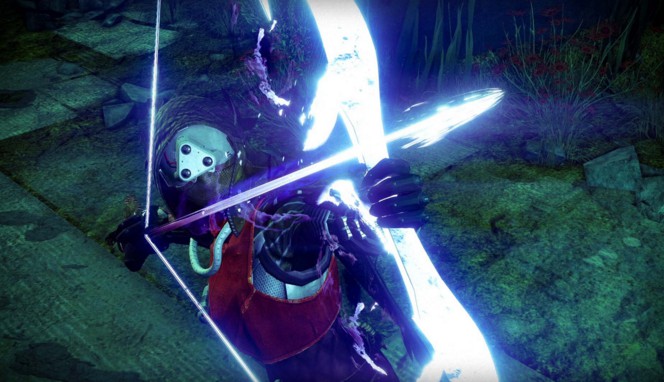 Destiny is the most talked-about game in the industry. Blizzard did the vanilla launch of the game, and Destiny now has 25 million registered players, playing well over 3 hours each day. Monetization is now moving away from a tradition DLC model to inserting cosmetic microtransactions into the game which can rake in more money with less effort, and in turn, devoted paying players can support free content updates for the whole community. We consider Destiny as a new candidate to be the next World of Warcraft in terms of crafting an ever-present, loyal fanbase populating a growing world, and it may be the single biggest franchise of the next decade.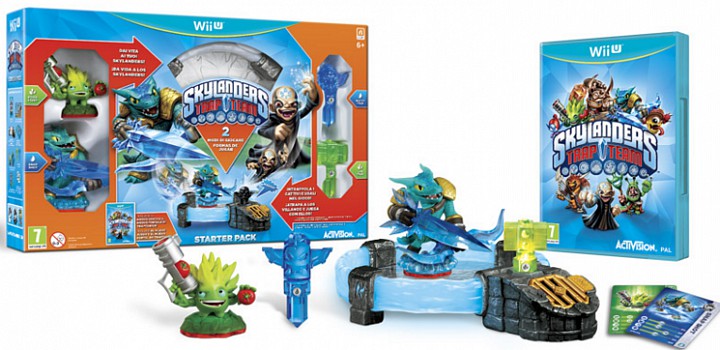 Skylanders is number one toys-to-life franchise worldwide year-to-date. The franchise was a quick hit with kids, since it allowed them to carry their digital creations into real-world play time. Games in the series are played by placing character figures called the Skylanders on the "Portal of Power", a device that reads the figures' tags through NFC and "imports" the character represented by the figure into the game as a playable character. Therefore, toys are built into the game, and so the title acts like a platform for sales of profitable figure sets. That model leads to higher average spending per gamer while making Activision a huge player in the action-figure toy market. t didn't take long before competition wised up to the sales opportunity that Skylanders was creating. Disney (NYSE:DIS) launched its rival Infinity game in 2013 and then last year released a sequel, stuffed with Marvel characters. More toy giants are joining the party in 2015, including Lego. But Activision still dominates in the $3.3 billion toy vehicle market. Now the series has been generating over $3 billion in revenue in less than three years and has sold over 250 million action figures.
Financial Results.

The revenue growth greatly exceeded the industry average of 17.3%. Since the same quarter one year prior, revenues rose by 31.6%. Growth in the company's revenue appears to have helped boost the earnings per share. The company reported significant earnings per share improvement in the most recent quarter compared to the same quarter a year ago. The company has demonstrated a pattern of positive earnings per share growth over the past two years. We feel that this trend should continue. During the past fiscal year, Activision Blizzard increased its bottom line by earning $1.14 versus $0.95 in the prior year. This year, the market expects an improvement in earnings ($1.36 versus $1.14).
The net income growth from the same quarter one year ago has significantly exceeded that of the S&P 500 and the Software industry. The net income increased by 652.2% when compared to the same quarter one year prior, rising from -$23.00 million to $127.00 million.
The return on equity has improved slightly when compared to the same quarter one year prior. This can be construed as a modest strength in the organization. Compared to other companies in the Software industry and the overall market, Activision Blizzard's return on equity exceeds that of both the industry average and the S&P 500.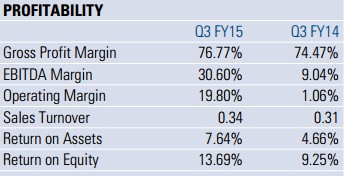 Mobile Expansion.
Recently the company announced that it have acquired social gaming company King, creator of the popular casual game Candy Crush Saga, for $5.9 billion. Activision Blizzard's primary reason for buying King Digital was for access to the company's 474 million monthly active users. Now the company's user base has raised to 550 million, moving it up to the fourth position behind behemoths Facebook (No.1) and YouTube (No.2), with WeChart/Webdn holding the third spot. In addition to acquiring King's $920 million of cash, Activision's expects a 30% bump to revenue and earnings next year from the acquisition, as well as a "significant" boost to free clash flow, which was recently reported as reaching $180 million for the third quarter. King will move Activision to the world's No. 2 (by revenue) interactive-entertainment company, behind China's Tencent Holdings.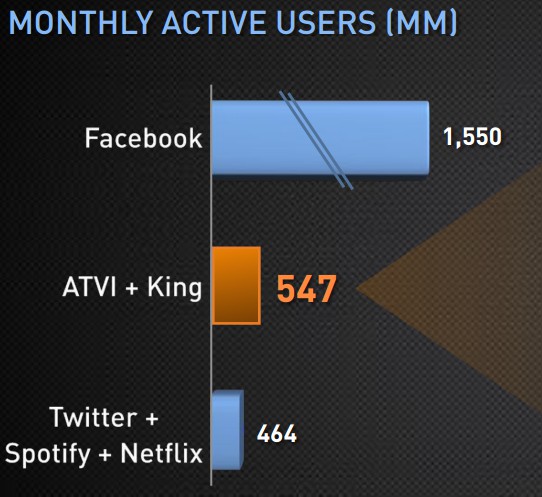 King has been able to leverage the popularity of Candy Crush to promote its other games, including its sequels, Candy Crush Soda Saga, Farm Heroes Saga, and Pet Rescue Saga. Overall, King has three apps in the top 25 grossing iOS apps and five games in the top 50 grossing iOS games in the United States. Activision Blizzard can use King's popular games to springboard some of its own creations. So far, Activision's only hit mobile game has been Hearthstone. The company has made a bigger push into mobile recently with the release of a Skylanders game and Guitar Hero Live on the same day as their more robust console counterparts. Still, Activision is well behind EA's much larger portfolio of exclusive mobile titles.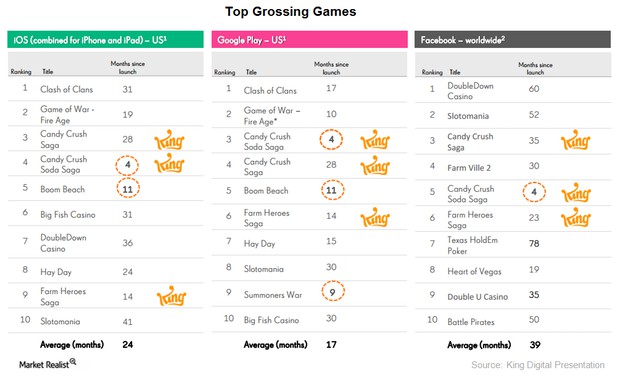 King's user base is not only much larger than Activision's, but it also spans a much broader geographic region. That situation opens up opportunities for Activision to cross-promote its own titles within King's user base, particularly in the rapidly growing region of Asia.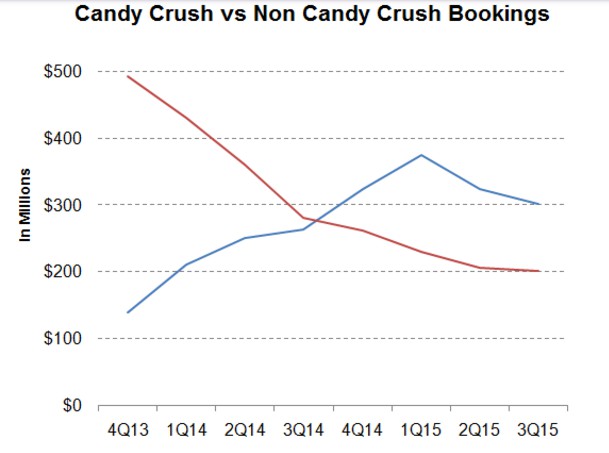 Some analysts are of the opinion that what Activision is paying for King Digital is too much. The deal is more than double Microsoft's $2.5 billion purchase of Minecraft. Also King saw a 7% decline in revenue last quarte. It's always dangerous to acquire a company with declining revenue, especially one that's a supposed leader in a high-growth market.
But as you can see on the graph above, revenue of non cndy crush games is increasing. We think the deal was good for both companies. It opens for ATVI new sources of revenue generating across business models, including subscription-based, upfront-purchase, micro-transaction, and free-to-play. Therefore, the move will handily round out Activision Blizzard's revenue stream. Despite generating $2.3 billion so far this fiscal year, just 5% of that comes from mobile games; the lion's share, 54%, comes from its console offerings, and its profit margin sits at just over 12%. Meanwhile, King Digital shows a profit margin nearly twice that — 24.03% on $490 million in revenue for the second quarter alone. That money comes from King's 474 million monthly active mobile users, who pay real cash for virtual in-game goods. Also the mobile games market is expected to grow from $36 billion this year to $55 billion by 2019.
ESport Division.
ESports, meanwhile, is another largely untested field (at least in terms of longevity), but one that's loaded with potential. Revenues across the industry are expected to reach $1.8 billion by 2020. There are significant opportunities with tournaments, advertising and sponsorships, broadcast contracts and wagering.
The audience is growing, too. There are 226 million eSports fans around the globe and that number will increase to 323 million by 2018. We expect the eSports division to become a meaningful revenue and profit contributor to Activision within two to three years.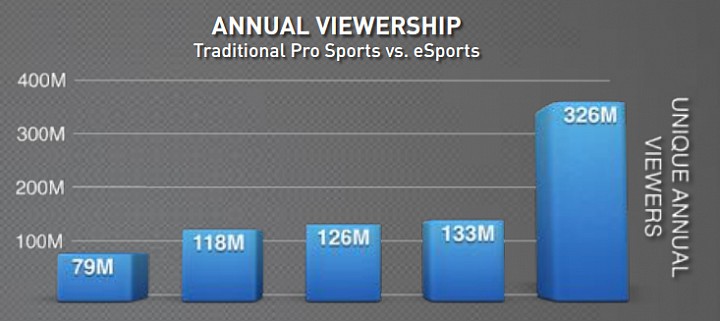 The company, on Oct. 21, announced the formation of a new division, which will be focused on professional gaming. Steve Bornstein, former CEO of ESPN and the NFL Network, will serve as chairman of the unit. We see eSports as a top new growth initiative for Activision. It represents one of the four key pillars of emerging growth in online media for Activision, driving user engagement and retention in the near term, while also expanding monetization in the long term. Overall, we believe eSports could become a meaningful revenue and profit contributor to Activision within 2–3 years, as the company monetizes its IP and product portfolio across alternative distribution channels.
But it's not without strong competition. PC games like Riot Games' League of Legends and Valve's Dota 2 have significant presences among fans. But there is a solid customer base — and it's growing steadily. There are 226 million eSports fans around the globe today and that number will increase to 323 million by 2018. In November, the new division also hired as senior vice president Mike Sepso, who just left as president of eSports events company and broadcaster Major League Gaming.
The next Disney.
The more than 14 billion hours that people spent playing or watching Activision Blizzard games over the last year equaled the hours of movie-viewing in theaters worldwide over the same period. Activision Blizzard have announced the creation of its own movie and television studio. The company has a strong collection of properties spanning 30 years that includes Diablo, world of Warcraft, Guitar Hero, Hearthstone, Heroes of Warcraft, StarCraft, Overwatch, and now Candy Crush.
For the coming decade we foresee a broader set of touch-points with consumers: people no longer just play games, but also share them, watch others play them, modify them, and compete in them, by investing in TV, film, and eSports today, Activision Blizzard seeks to capture this momentum early. The head of the new movie division is Disney veteran Nick van Dyk. He spent nine years at Disney where, as senior vice president of corporate strategy, he helped drive Disney's focus on franchise intellectual property and played a significant role in the acquisitions of Pixar, Marvel, and Lucasfilm. In comparison comics industry with game, van Dyk says. "People in this space are playing over a thousand hours a year of video games relative to the two hours they spend on a Spider-Man comic book. It's a different level of immersion and engagement." The company is going to focuse on making fantastic standalone, quality content and make make great entertainment, rather than trying to make an ad for a game.
For its first production, Activision Blizzard will release an animated TV series called "Skylanders Academy," based on "Skylanders" game. The animated series will feature the voices of actors Justin Long ("Alvin and the Chipmunks"), Ashley Tisdale ("Phineas and Ferb"), Jonathan Banks ("Breaking Bad") and Norm Macdonald of "Saturday Night Live" fame. Next up, movies based on "Call of Duty" that has been played by 100 million people. The first film could arrive as early as 2018. As games evolve into true cross-screen and transmedia franchises, we will see more movie and TV-type content appear that are directly or indirectly linked to games. For the company, film and television are a natural product extension, especially as channels and platforms for TV watching proliferate.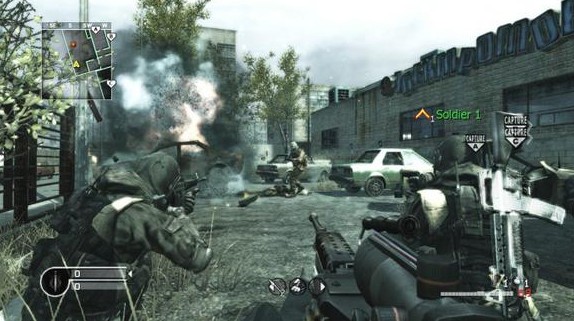 Making a Call of Duty film would certainly be expensive. The Bourne films, which Call of Duty: Modern Warfare and Black Ops can be compared to, cost between $60 million to $125 million to make.
Yet a film wouldn't necessarily be more expensive than a triple-A game. Call of Duty: Modern Warfare 2 (2009) reportedly cost between $40 to $50 million to make, and an additional $200 million on marketing. If just 30 million gamers buy $8 tickets to see the Call of Duty film, it would equal $240 million in box office receipts.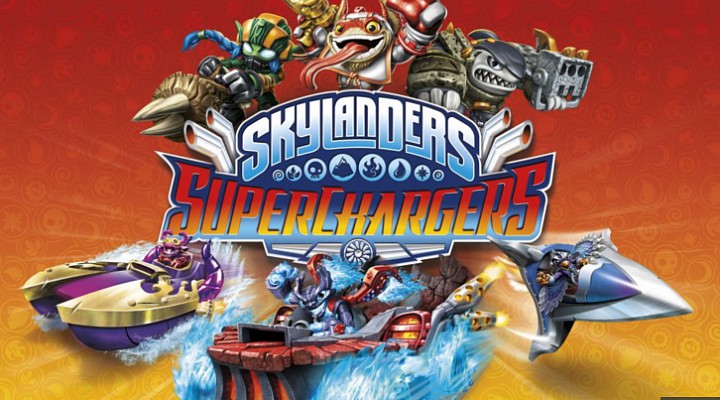 Skylanders should emulate the Pokémon business model. Skylanders is a hugely profitable franchise, generating over $3 billion in revenue in less than three years and has sold over 250 million action figures. Production budget of Pokemon first movie was $30 million, global box office was $164 million. Considering how profitable the early Pokémon films were, Activision should strike while the iron's hot and launch Skylander cartoons and films as well.

Still at the very beginning.
Summarizing, as we've seen Activision Blizzard are creating new type of entertaiment media empire based on cycle of franchise IP. This cycle can be descriped in 4 steps. Firstly, the company creates new amazing games. Secondly, games generate huge audiences with demand for more engagement opportunities. Then the new studio produces movies and serials. Finnaly, broader and deeper consumer engagement extends franchise life and amplifies core business value.

For the coming decade we foresee a broader set of touch-points with consumers: people no longer just play games, but also share them, watch others play them, modify them, and compete in them, by investing in TV, film, and eSports today, Activision Blizzard seeks to capture this momentum early. We believe that ATVI can repeat the success of Disney and become the world's biggest entertaiment digital empire.