Will VIX Land Above 10.00 By September 1? (VOTE!)

5 august
As we all know, the financial markets are mired in one of the lowest volatility periods on record. Developed economies are growing at fairly steady, albeit low, rates while inflation is following at a similarly low but steady trajectory.

Central bank stimulus might be coming to an end in the US and soon to follow in Europe. But the world is still awash in plenty of liquidity, creating what's colloquially known as the "Fed put" or "Yellen put" to denote that financial markets are backed up by the safety net of the world's central banks. The Fed is the most prominent given 24%-25% of all global economic activity comes out of the US, with the US dollar acting as the world's reserve currency.
Of the 25 lowest VIX daily readings since its official introduction in January 1990, 16 of them have come in 2017. In other words, 64% of the lowest readings have been present in less than 4% of its history.
Most feel that volatility will increase sometime in the near-term, though the timing is uncertain. For now, the VIX is trending along the 10 level.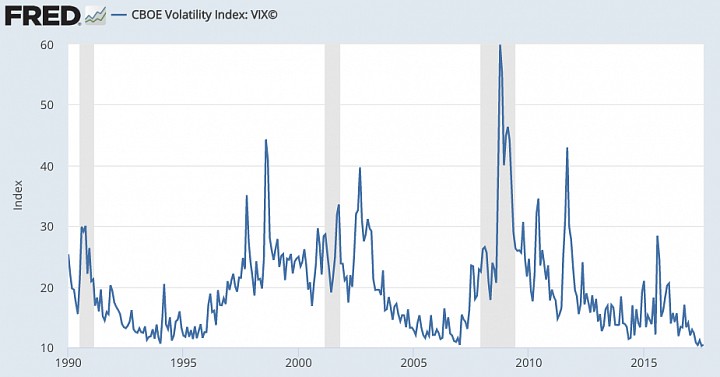 (Source: St. Louis Federal Reserve)
Since its officiation, the mean has approximated 19.5, while the median has come around 17.6. Naturally events that bring about high volatility, such as the financial crisis, are less common than otherwise, which pushes the mean above the median due to the magnitude of outliers.
Its absolute high was 80.86 on November 20, 2008, eleven days before the S&P 500 plunged 9%. Its absolute low was 9.31 on December 22, 1993, just 5 ticks off the July 21, 2017 low of 9.36.
Some level of mean reversion is likely in store at some point, but the "short vol" crowd have been huge winners ever since the market sell-off on August 24, 2015.
Will the VIX close above 10.00 by September 1?
Agree = Yes
Disagree = No
Simply log-in with StockTwits (or FB/TWTR) to vote