Today, the National Association of Realtors (NAR) released data for pending home sales in July. The Pending Home Sales Index (PHSI), rose 3.3%to 105.9 in July, after falling in June to 102.5. The PHSI has now risen 4 out of the last 5 months. Still, there is a lot of room to improve as the index is still below the July 2013 reading of 108.2.

Lawrence Yun, NAR chief economist noted that "interest rates are lower than they were a year ago, price growth continues to moderate and total housing inventory is at its highest level since August 2012." (NAR).
The PHSI rose across all regions except the midwest. Here's a breakdown: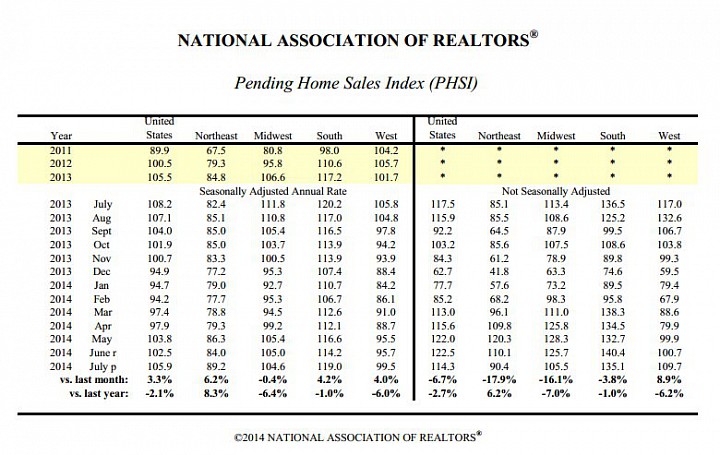 (click to enlarge; source: NAR)
The housing data points in August all but one been improving and beating forecasts.

1) NAHB Housing Market Index
August: 55, Forecast 53, July: 53

2) Building Permits
July: 1.05M, Forecast: 1.00M, June: 0.97M

3) Housing Starts
July: 1.09M, Forecast: 0.97M, June: 0.95M (revised up from 0.89M)

3) Existing Home Sales
July: 5.15M, Forecast: 5.01M, June: 5.03M

4) New Home Sales
July: 412K, Forecast: 426K, June: 422K (revised up from 4.06K)

The New Home Sales data was the only disappointment, but its previous print was revised up significantly. The pending home sales data adds to a plate of strong housing data for July and August pushing the rhetoric of earlier FOMC rate hike.