IPG Photonics Corporation IPGP reported second-quarter 2017 earnings of $1.91 per share, beating the Zacks Consensus Estimate by 28 cents and advancing 53.4% year over year. The figure was better than management's guided range of $1.50–$1.70 per share. Tax benefits of a dime fully offset foreign exchange loss of the same proportion.

The strong growth was driven by higher sales, which surged 46.1% from the year-ago quarter to $369.4 million. The figure outperformed management's guided range of $320–$340 million.

IPG is benefiting from strong adoption of fiber lasers over conventional lasers and non-laser cutting and welding equipment. According to management, higher productivity and lower operating cost of fiber lasers are accelerating the replacement of the installed base of CO2 and YAG laser systems.

The year-over-year sales growth was driven by robust performance in China and Europe, with robust demand across a variety of applications and industries. Apart from strong order flow, the growth benefited from strong execution in capacity planning, production & operations management, customer credit management and global administration.

IPG stock has gained 68.5% year to date, substantially outperforming the 44.8% rally of the industry it belongs to.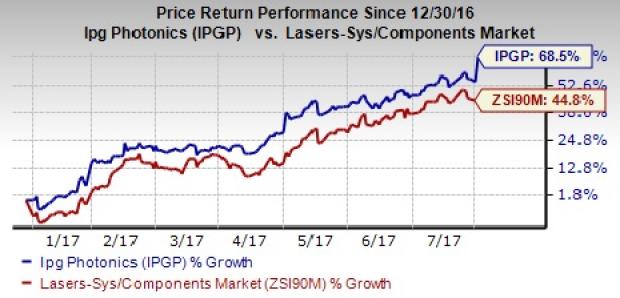 Segment Details

Materials processing sales increased 47.7% year over year and accounted for approximately 95.6% of total sales driven by strength in cutting and welding applications. Marking and engraving increased by a high single digit percentage year over year.
IPG Photonics Corporation Price, Consensus and EPS Surprise
Demand within IPG's core materials processing business was especially strong in China, which almost doubled year over year and represented half of total sales. Sales in both the U.S. and Europe increased 20%, whereas it declined 3% in Japan from the year-ago quarter.

Sales to other markets were up 19% year over year driven by strong sales in telecom and advanced applications.

Sales of high-power CW lasers increased 57.1% year over year to $222.2 million driven by rapid growth in cutting and welding applications. Management noted that demand for 6, 10 and 15 kilowatt lasers for cutting applications continues to gain significant momentum.

Sales of QCW lasers increased 81.7% year over year to $29.5 million driven by growth in consumer electronics production and percussion hole drilling.

Medium-power CW laser sales increased 10.6% as increased demand for fine welding, wafer inspection and 3D printing offset softness in cutting. Management noted that within the lower-end cutting applications, many OEMs are moving away from medium-power to high-power lasers at 1 kilowatt and above.

Pulsed lasers sales grew 12% year over year. Sales of high-power pulsed lasers used in marking and engraving as well as ablative, cleaning and stripping applications increased more than 50%, partially offset by a decline in low-power pulsed laser sales.

Other products sales increased 53% year over year due to strong sales growth in systems and accessories.

Operational Details

IPG posted gross margin of 55.9%, which expanded 140 basis points (bps) on a year-over-year basis but was in line with management's guided range of 50–55%. This was primarily due to improved manufacturing efficiency, cost reductions and favorable product mix that fully offset lower average selling price (ASP).

As a percentage of sales, sales & marketing expenses decreased 50 bps, R&D expenses decreased 30 bps and G&A expenses decreased 100 bps.

As a result, operating income expanded 60 bps from the year-ago quarter to 38.2%.

Balance Sheet & Cash Flow

During the second quarter, IPG generated $82.3 million in cash from operations and used $21.8 million to finance capital expenditures. In the previous quarter, the company generated $50.8 million in cash from operations and used $21.9 million to finance capital expenditures.

IPG ended the quarter with $930.4 million in cash & cash equivalents and short-term investments, representing an increase of $67.6 million from Mar 30, 2017.

During the quarter, IPG bought back 91K shares for $12 million.

Outlook

IPG expects sales in the range of $350–$375 million for the third quarter of 2017. Earnings are projected in the range of $1.70–$1.90 per share.

The mid-point of this guidance represents quarterly sales and earnings growth of approximately 36% and 40%, respectively, on a year-over-year basis.

The company expects that QCW growth rates will begin to moderate during the third quarter with the completion of key capacity additions.

Moreover, IPG expects a rebound in sales within Japan during the second half of the year.

Management now expects 32–34% sales growth for 2017, which is a significant increase from prior expectations of 10–14% sales growth. Management noted lack of visibility into fourth-quarter growth trends.

IPG anticipates lower sales growth for the fourth quarter due to more challenging comparisons and an expected slowdown in spending related to typical seasonality in China and the consumer electronics investment cycle.
Management expects to see a significant increase in operating cash flow during the remainder of the year. IPG continues to expect $90–$100 million of capital expenditure for 2017.

Zacks Rank & Key Picks

IPG currently has a Zacks Rank #2 (Buy). Microvision MVIS, Lumentum LITE and Cutera CUTR are stocks worth watching in the sector with the same Zacks rank as of IPG. You can see the complete list of today's Zacks #1 (Strong Buy) Rank stocks here.

Microvision, Cutera and Lumentum are set to report earnings on Aug 3, 7 and 9, respectively.
More Stock News: Tech Opportunity Worth $386 Billion in 2017
From driverless cars to artificial intelligence, we've seen an unsurpassed growth of high-tech products in recent months. Yesterday's science-fiction is becoming today's reality. Despite all the innovation, there is a single component no tech company can survive without. Demand for this critical device will reach $387 billion this year alone, and it's likely to grow even faster in the future.
Zacks has released a brand-new Special Report to help you take advantage of this exciting investment opportunity. Most importantly, it reveals 4 stocks with massive profit potential.
Want the latest recommendations from Zacks Investment Research? Today, you can download 7 Best Stocks for the Next 30 Days.
Click to get this free report
Cutera, Inc. (CUTR): Free Stock Analysis Report
Microvision, Inc. (MVIS): Free Stock Analysis Report
Lumentum Holdings Inc. (LITE): Free Stock Analysis Report
IPG Photonics Corporation (IPGP): Free Stock Analysis Report
To read this article on Zacks.com click here.
Zacks Investment Research