The recent consolidation in USD/CAD (since the 2015-high of 1.3350) has been messy but has become an apparent triangle in September.

USD/CAD 4H Chart 9/8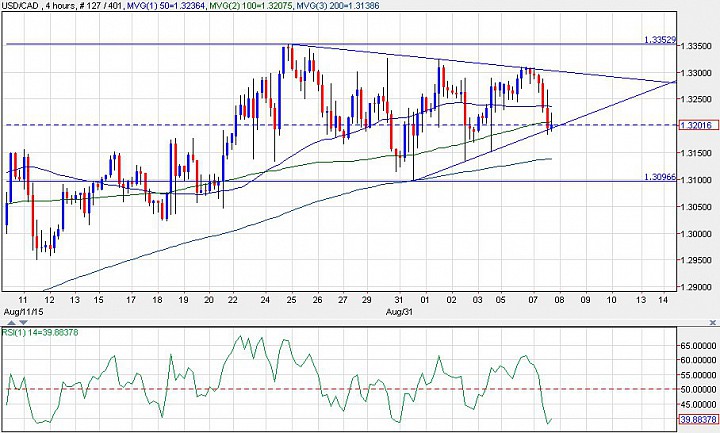 (click to enlarge)

Here are some observations in the 4H chart:
1) The prevailing trend is bullish, so my bias is still bullish especially since price is holding above the 200-period SMA in the 4H chart. 
2) The RSI has for the most part held above 40, given some elbow space within trading sessions. this suggests that the prevailing bullish momentum is still intact. Again, another reason I am slightly bullish despite today's retreat. 
3) Price is testing a triangle support line while the RSI is around 40. With the prevailing trend being bullish, this gives me a buy consideration. 

The thing about the bullish outlook is that it is based on the previous trend being NOT broken, and the fact that price is at a favorable spot for support as well as reward to risk. There is still no sign that bulls are ready to take over. 

Trading Strategy:
If we DO buy from the 1.32 triangle support area, we should first limit the bullish outlook to 1.33. A break above the 1.3315 area then opens up 1.3353 and possibly higher. Therefore, we might want to split the buy into 3 small positions, one to exit around 1.2290 and another at 1.3353, and one as a runner above 1.3353, perhaps towards 1.34.