The renewable energy industry is not well-known for housing high-quality, recession-resistant businesses. It seems that every quarter there is an announcement of a large-scale bankruptcy in this fledgling industry.
Because of this, most investors stay far away from renewables…
…which means this industry might be interesting for contrarian investors.
"The time to get interested is when no one else is. You can't buy what is popular and do well."
TransAlta Renewables (RNW.TO) (TRSWF) is one example of an under-appreciated company in the renewable energy industry.
Most investors are likely unfamiliar with this company, yet it is attractive for dividend growth investors for a number of reasons. First and foremost, it has an exceptionally high dividend yield of 5.7%.
That is nearly three times the average dividend yield of the S&P 500, and makes TransAlta Renewables a member of the short list of publicly-traded securities with 5%+ dividend yields.
Beyond its high dividend yield, TransAlta Renewables is also quite unique because it pays monthly dividends, instead of the traditional quarterly distribution schedule.
Monthly dividend payments are highly superior for investors that need to budget around their dividend payments (such as retirees). There are very fewcompanies that pay monthly dividends.
TransAlta Renewables' high dividend yield and monthly dividend payments are two of the largest reasons why this company will stand out to income investors.
However, extensive due diligence is required for any high yield security, to ensure that its payout is sustainable.
This article will analyze the investment prospects of TransAlta Renewables in detail.
Business Overview
TransAlta Renewables is a renewable energy infrastructure company with headquarters in Calgary, Alberta.
With an enterprise value of CAD$4 billion+ and a market capitalization of ~$3.5 billion, TransAlta is Canada's largest producer of wind energy and is one of the country's largest producers of renewable energy as a whole.
(Click on image to enlarge)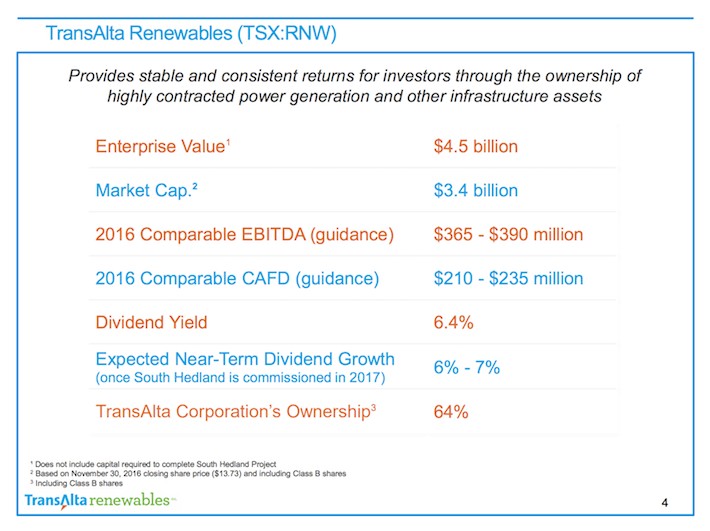 The company operates through fives segments in two distinct geographies: North America and Australia. TransAlta Renewables' Australia presence was initiated in March of 2015, when the company agreed to acquire Australian assets from its sponsor, TransAlta, for ~CAD$1.8 billion.
Today, TransAlta Renewables' 5 segments are:
North American Gas Fired
North American Wind
North American Hydro
Australian Gas Fired
Australian Gas Pipeline
The number of facilities in each segment along with its generating capacity can be seen below.
(Click on image to enlarge)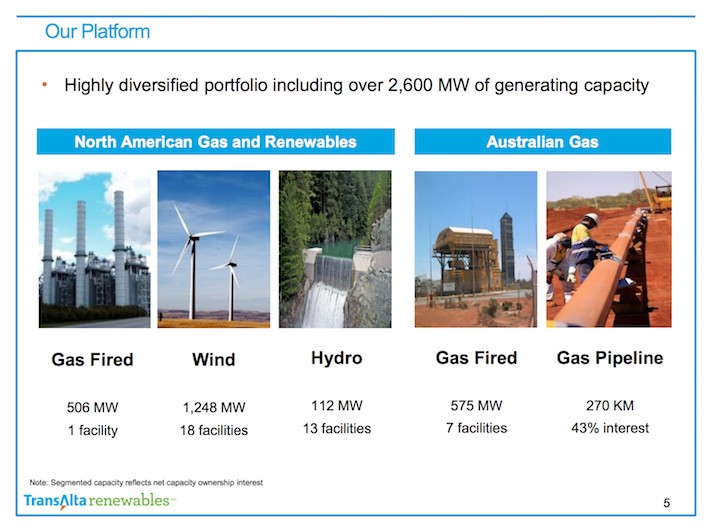 TransAlta is a relatively new publicly-traded entity. The company's initial public offering was completed in August of 2013 at a price of CAD$10.00 per common share. Today, the stock is trading at ~CAD$15.50.
Since its spin-off, TransAlta Renewables has delivered exceptional total returns, beating its benchmark (the S&P/TSX Composite Index) handily in every meaningful performance period.
(Click on image to enlarge)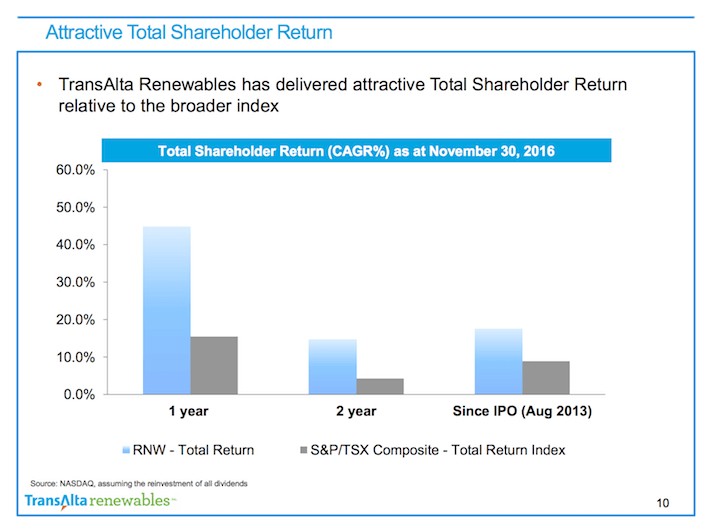 More