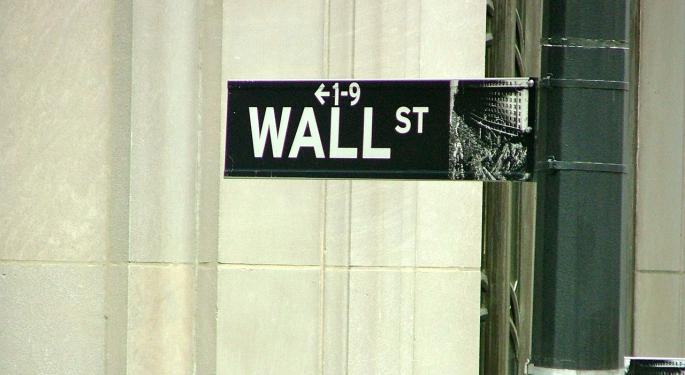 The U.S. equity market moved higher during Wednesday's session, with the Dow Jones Industrial Average and S&P 500 closing at new all-time highs levels. The Nasdaq, however, was the big gainer on the day, adding better than 1 percent. Notable movers on the day included Microsoft Corporation MSFT 5.31%, which reported solid fiscal Q4 results after the bell on Tuesday. The stock closed up over 5 percent to $55.91.
Big losers included a number of gold and silver mining companies, which coincided with moderate weakness in precious metals. Barrick Gold Corporation ABX 7.7% fell nearly 8 percent on heavier than usual volume to $19.91, finishing at new session lows. First Majestic Silver Corp AG 9.54% lost nearly 9.5 percent.
Major Averages
The Dow Jones Industrial Average added a modest 36 points to close at a new all-time high of 18,595.
The S&P 500 also made a new high after gaining a little better than 9 points, or 0.43 percent, to finish at 2,173.
The Nasdaq was the big winner on the day, climbing almost 54 points, or 1.06 percent, to 5,090. The index was boosted by Microsoft's strong performance.
Related Link: The Market In 5 Minutes: Microsoft Beat, Disney Downgrade And Donald Trump
Commodities
The commodity complex showed some weakness on Wednesday, with the Bloomberg Commodity index losing 0.69 percent. One exception was crude oil prices.
NYMEX crude oil futures added 0.65 percent on the session to $44.94, while Brent futures jumped 1.03 percent to $47.14. Natural gas prices fell 2.60 percent at last check to $2.66.
Precious metals traded lower on Wednesday. COMEX gold futures shed 1.28 percent to $1,315.30 while the SPDR Gold Trust ETF GLD 1.43% shed 1.43 percent and closed the equity trading session at $125.39. Silver futures fell a little less than 3 percent to $19.45 and the iShares Silver Trust ETF lost 2.70 percent to $18.41.
In the grains complex, both corn and wheat were lower on the session. Corn futures shed 1.22 percent to $3.4425 while wheat futures declined 1.20 percent to $4.13 at last check. Soft commodities trading on the ICE exchange such as cocoa and cotton were also weak, with each losing roughly 1 percent.
Bonds
Treasury prices fell, sending yields on government bonds higher. The iShares Barclays 20+ Year Treasury Bond ETF TLT 0.55% had lost 0.55 percent to finish at $138.28.
Treasury yields were as follows: The yield on the 2-Year Note was 0.73 percent. The 5-Year Note was yielding 1.15 percent. The 10-Year Note was last yielding 1.59 percent while the 30-Year Bond yield was 2.30 percent.
Currencies
The U.S. Dollar was very marginally higher on the session. The PowerShares DB US Dollar Index Bullish ETF UUP 0.08%, which tracks the performance of the greenback versus a basket of foreign currencies, was up 0.08 percent to $25.12.
The closely watched EUR/USD pair was essentially unchanged at 1.1012 euros.
Volatility & Volume
The CBOE Volatility Index (VIX) shed 1.67 percent on the day to 11.77. The closely watched "fear index" is trading near 52-week low levels, underscoring the current lack of volatility in the equity market. The VIX has a 52-week range of 10.88 to 53.29.
Volume was light on Wednesday with around 51 million shares of the SPDR S&P 500 ETF SPY 0.41% trading hands versus a 3-month daily average of just under 100 million shares. Trading in the PowerShares QQQ Trust QQQ 1.17% was a little heavier with around 22 million shares being traded compared to a 3-month daily average of 25.5 million.
© 2016 Benzinga.com. Benzinga does not provide investment advice. All rights reserved.