German inflation in January disappointed. Germany's statistics office estimated that the CPI contracted at -1.0% compared to the previous month. The December reading was flat, and the forecasts for the January reading was around 0.8%. The inflation was therefore slightly disappointing, but within the range of reasonable estimates. 


(cilck to enlarge; source: forexfactory.com)
The euro however was not shaken by this poor inflation data. Perhaps it is because the ECB has just announced that QE will begin in March, so today's inflation data has no impact on monetary policy. It essentially confirmed the ECB's concern of deflation which it has already acted on. 

If QE if priced in, and poor inflation does not drag the euro, maybe it is time it goes for a little consolidation/ bullish correction. However, we should maintain a bearish bias in the medium to long-term. The 4H chart is probably a good time-frame to watch a short to medium-term consolidation.

EUR/USD 4H Chart 1/29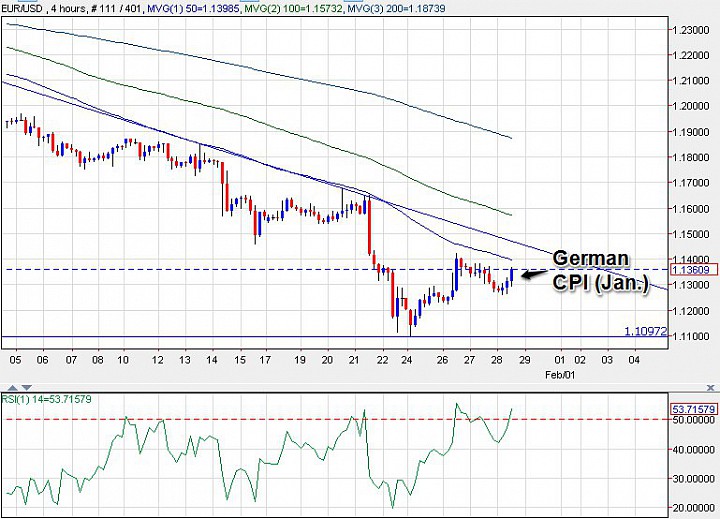 (click to enlarge)

Price action today puts the pressure back on this week's highs around 1.1420. Above that, we should monitor the 114.60 area, which was a previous support pivot perhaps reinforced by a falling trendline coming down from the December high of 1.2570.

In ability to push above 1.1420 and a return below 1.13 would suggest that the bears are still in charge, and that the bias is still bearish.