There is a decent argument to short the EUR/USD here below 1.12. 

EUR/USD 8/1 daily chart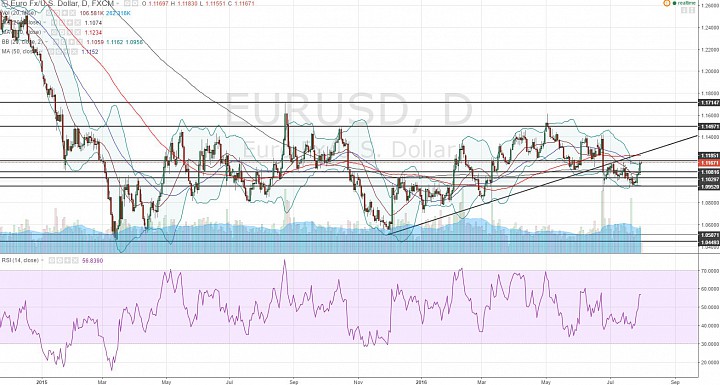 (click to enlarge)

No trend:
- First of all, we should acknowledge that EUR/USD has gotten into a non-directional mode since the start of 2015 after it made the downswing to 1.0450.
- After that, EUR/USD has been in a long-winded sideways consolidation.

Central area:
- There was a choppy drive-up between December 2015 and May 2016. 
- Price retreated from 1.16 and came down to about 1.0910. 
- We can see that EUR/USD has developed a little consolidation in the central area of the larger consolidation range.

Short-term bullish:
- EUR/USD is neutral in the medium to long-term now (I trade based on 1+year as long-term).
- But, it has been bullish in the short-term, rallying from 1.0952 low to almost 1.12. 

Resistance:
- Now, the previous resistance from early July was 1.1185. 
- It looks like price action is essentially stalling below this resistance, trying to form a price top.

EUR/USD 1H Chart 8/1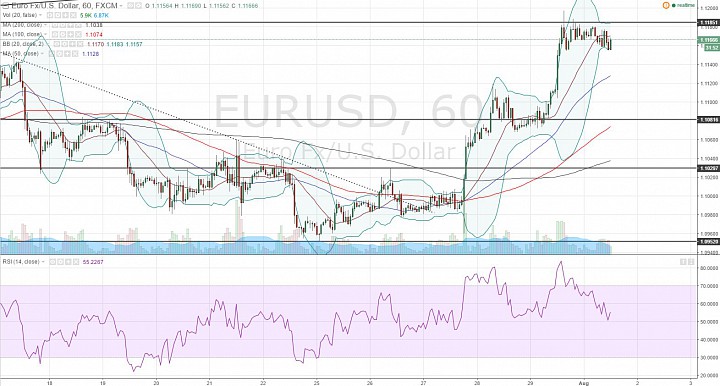 (click to enlarge)

Will price retreat?
- The question now is whether EUR/USD will retreat after consolidating under 1.1185. 
- I think if it does, we should have a conservative bearish outlook. 
- I think the middle of our recent range is around 1.1060, and is a good target for a bearish outlook if price can hold under 1.12. 

Trade idea:
- Let's say we get in short at 1.1175: Stop at 1.1225: Target at 1.11 and 1.1060 .
- The avg. risk for the 2 positions will be 50 pips.
- The avg. potential gain for them will be 95 pips.
- The reward to risk is almost 2:1. 
- A the position with target of 1.1020 would keep the trade profile to the same risk (50 pips) but improve average potential gain to 115 pips.
- However, this 3rd position being most aggressive of the 3 has the strongest potential of backfiring - let's say we price does dip, but starts to climb back up from 1.1060. 
- If this 3rd position is the only one left, kudos for making gains on the first 2, but we should make sure to move the stop down so that if price starts to surge, we won't let this 3rd position eat up the gains from the first 2.