While there's no doubt that the endless stream of propaganda emanating from The Kremlin is to a certain extent just Moscow basking in the glory of Russia's triumphant return to the world stage in the name of eradicating terrorism and thus should be taken with a grain of salt, the near daily videos released by the Russian Defense Ministry clearly demonstrate that Russian warplanes are destroying something in Syria. 
If even a portion of the bombing raids Moscow is broadcasting to the world on YouTube in fact depict successful strikes on ISIS positions, then it's likely just a matter of time before the group fades into the annals of history. 
On Friday alone, Russia claims to have destroyed 11 ISIS "command centers". Here's Sputnik:
The Russian Aerospace Force has conducted 36 sorties over the past 24 hours, hitting 49 ISIL targets in the Syrian provinces of Hama, Idlib, Latakia, Damascus, Aleppo, the Russian Defense Ministry said on Saturday. As a result, 11 ISIL command and operation centers have been destroyed.

 

According to the Russian Defense Ministry's spokesman, on October 16 the Russian aviation launched strikes on underground hideouts, operation centers, home-made weapon production plants, firing positions, artillery, munition warehouses, ammunition and material supplies of the Islamic State jihadist group.



And while it might be too early to write the ISIS obituary, the end seems to be nigh which is why we thought it a good time to offer the following "career" retrospective on the violence (false flag or no) the group has either caused or inspired across the globe. 
Bear in mind, this is not a glorification of the group's "achievements."
In fact, it's the opposite. This is what happens when the West and its regional allies in the Mid-East attempt to destabilize governments by supporting extremists.
Via The New York Times: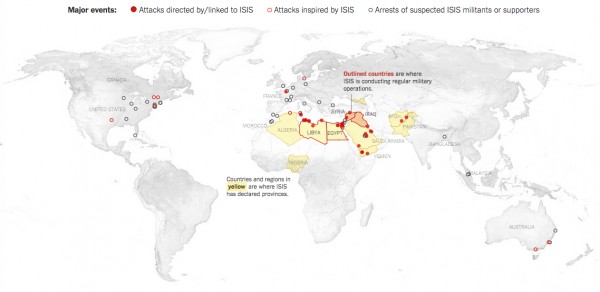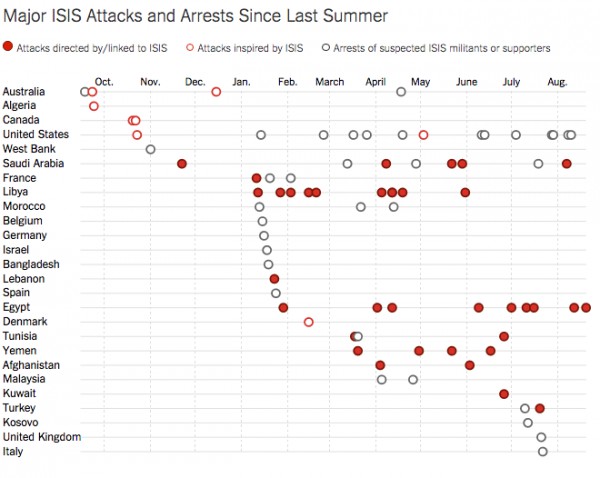 Aug 20, 2015
Egypt An ISIS affiliate claimed responsibility for bombing a branch of the Egyptian security agency.
Aug 12
Egypt An ISIS affiliate said it had beheaded a Croatian expatriate worker because of Croatia's "participation in the war against the Islamic State."
Aug 10
New Jersey A New Jersey man was arrested for allegedly trying to organize support for ISIS. 
Aug 8
Mississippi A newlywed Mississippi couple were arrested on charges that they tried to travel abroad to join ISIS.
Aug 7
Saudi Arabia ISIS claimed responsibility for a suicide bombing at a mosque that killed at least 15 people, including 12 members of a Saudi police force.
July 29
New York A man from Buffalo was arrested and charged with trying to join ISIS.
July 28
Florida A Florida man was charged with planning to bomb a public beach in Key West to show his support for ISIS.
July 22
Italy The Italian police arrested two men accused of plotting attacks on national landmarks in Italy and of posting threatening messages online in support of the Islamic State. 
July 21
United Kingdom A man who was allegedly planning on traveling to Syria to join ISIS was charged with plotting to run over an American serviceman stationed in Britain and then killing him with a knife. 
July 20
Turkey A Turkish citizen believed to have had ties to ISIS killed at least 32 people at a cultural center. 
July 19
Saudi Arabia The Saudi Interior Ministry announced that security forces had arrested more than 400 people believed to be connected to ISIS over the past few months. 
July 16
Egypt In what appeared to be the first attack on a naval vessel claimed by Sinai Province, the ISIS affiliate said it destroyed an Egyptian naval vessel and posted photographs on social media of a missile exploding in a ball of fire as it slammed into the vessel. 
July 12
Kosovo Following exhortations by ISIS to poison Kosovo's food and water supplies, five people were in custody, suspected of a plot to contaminate the water supply in the capital, Pristina.
July 11
Egypt ISIS claimed responsibility for an explosion outside the Italian Consulate's compound in downtown Cairo that killed one person. 
July 10
Turkey In early-morning raids in Istanbul and Sanliurfa Province, Turkish police seized automatic rifles, large ammunition packs and military uniforms and arrested 21 suspected ISIS members. 
July 4
Boston The son of a Boston police captain, described as mentally ill and devoted to the Islamic State, was arrested for allegedly plotting a series of deadly attacks. 
July 1
Egypt Militants affiliated with the Islamic State killed dozens of soldiers in simultaneous attacks on Egyptian Army checkpoints and other security installations in Egypt's northern Sinai Peninsula. 
June 26
Tunisia At least one gunman disguised as a vacationer attacked a Mediterranean resort, killing at least 38 people at a beachfront hotel — most of them British tourists — before he was shot to death by the security forces. 
June 26
Kuwait A suicide bomber detonated explosives at one of the largest Shiite mosques in Kuwait City during Friday Prayer. 
June 17
Yemen An ISIS branch claimed responsibilty for a series of car bombings in Sana, the capital, that killed at least 30 people. 
June 13
New York A college student in Queens was charged with conspiring to support a foreign terrorist organization after an investigation found he was planning to attack various New York City landmarks on behalf of ISIS.
June 11
Massachusetts Two men were charged in Boston with conspiring to help ISIS. A third man was fatally shot the previous week by law enforcement officials who said he had threatened them with a large knife. 
June 9
Egypt ISIS's Sinai province claimed responsibility for firing rockets toward an air base used by an international peacekeeping force.
June 3
Afghanistan ISIS is suspected of beheading 10 members of the Taliban.
Full report from New York Times