Towards the end of August, bitcoin (BTCUSD) fell sharply. It broke below 200 briefly, but then rebounded sharply back to 235. Price action has been choppy since. Let's break down the noise a little to see if we can get any clues from price action.

Bitcoin (BTCUSD) 4H Chart 9/27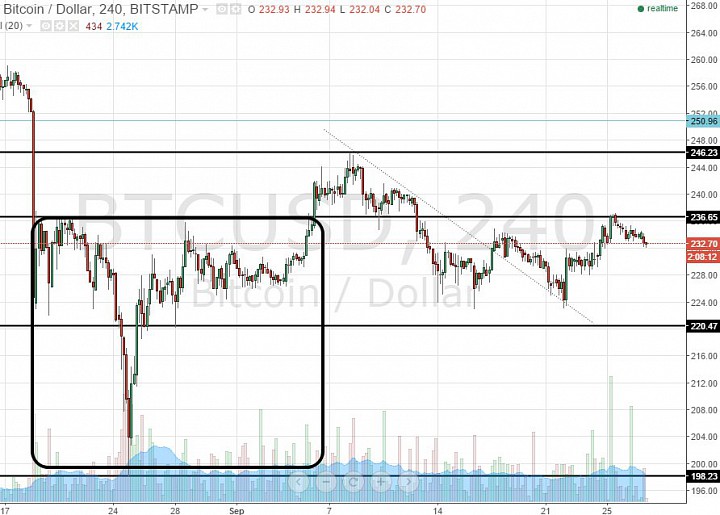 (click to enlarge)

To me bitcoin appears to have completed its downtrend from mid-July to late August. The V-shape reversal after price cracked 200 shows that bears are exhausted. However, this does not automatically mean a bullish outlook. In fact, the market has been more or less flat as it consolidates after the decline. 

Within this flat, choppy price action, it appears that bulls are holding its line. The 220 area is key support and suggests a slightly bullish bias with price above it. There is also a bit of a bullish drive since last week, but price stalled at a key support/resistance pivot around 237. Again, price action fails to show a clear victory for bulls or bears.

Now, if price can hold above 228-230, we could see some bullish short-term outlook to challenge the 237 pivot and eventually the highs around 246. A break below 228 would suggest a slight bearish bias to challenge the 220-224 support area ,below which the 200 handle would come into play.