With the Q1 earnings season gaining momentum, the broader picture does not seem as gloomy as most analysts expected before the reporting cycle commenced. However, a few S&P 500 companies in crucial sectors like Finance, Technology, Energy failed to make an impact.
Nevertheless, it is encouraging to note that among the 132 S&P 500 companies (as of Friday, constituting 37.3% of this index's total market capitalization) who have reported their quarterly numbers, the proportion of beating estimates compares favorably to other recent periods. More than 73% of these members exceeded the EPS estimates while 56.1% surpassed the top-line estimates. (For more information please consult our Zacks Earnings Trends Report)
Now looking ahead, 915 companies are slated to report their results, including 183 S&P 500 members, this week.
What's in Store for the Med-Instrument Space?
It is worth mentioning that when majority of the high-voltage sectors of the S&P 500 companies' cohort are expected to demonstrate no big show this earnings season, the Medical sector has been depicting a comparatively brighter scenario. In fact, Medical – constituting 13.7% of total market capitalization (third among the 16 Zacks Sector) – is one of the few sectors in the S&P 500 that is expected to report positive earnings growth in Q1. Medical Instruments, constituting a significant part of this broader Medical sector, is thus expected to reflect a scorecard in sync with the broader Medical sector.
Factors like the recent exemption of the Medical Device Excise tax for the next two years came in as a much-needed breather for the Medical Instrument stocks. We believe this exemption will allow companies in the Medical Instruments industry to earn more profits going ahead. We also believe strong product cycle and consistent innovation across different markets will remain the major growth drivers in subsector.
Let's take a look at the major Medical Instruments stocks slated to release their quarterly reports this week:
Edwards Lifesciences Corp.EW: This renowned transcatheter heart valve (THVs) developer is scheduled to report first-quarter 2016 earnings on Apr 26, after market close. During the entire first quarter, Edwards remained in the headlines, primarily owing to a string of significant regulatory approvals for its THVs. Moreover, management plans to execute share repurchases in 2016, which we believe will get reflected in the Q1 results.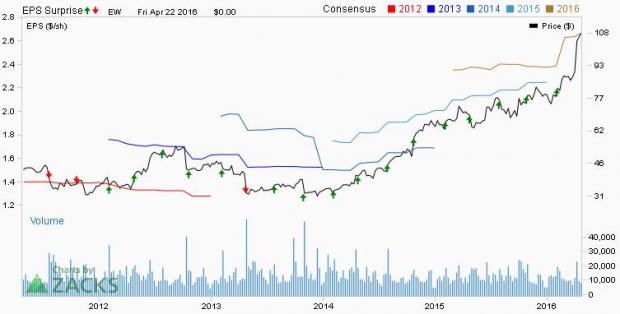 (Read More: What Awaits Edwards Lifesciences in Q1 Earnings?)
Hologic Inc.HOLX: This company manufactures medical diagnostics, imaging systems and surgical products. Hologic will report second-quarter fiscal 2016 financial numbers on Apr 27, after market close. Management is enthusiastic about the future prospects of the company's mammography business, which continued to reflect stable price despite competition. The fact that Hologic entered the coveted S&P 500 index during the second quarter will help the company maintain its legacy as one of the major players in the mammography equipment market. However, currency and share count headwinds as well as an anticipated rise in research and development expenses are matters of concern.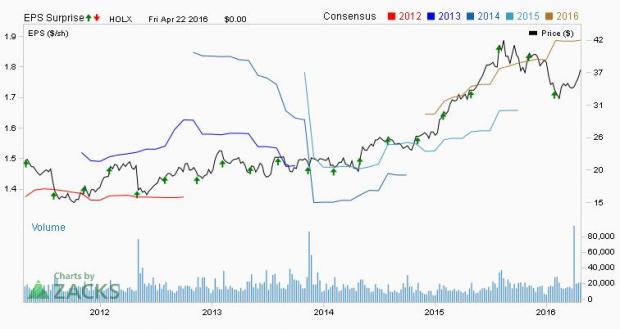 (Read More: Can Hologic Pull a Surprise in Q2 Earnings?)
Thermo Fisher Scientific, Inc.TMO: This renowned medical instruments manufacturer is anticipated to beat expectations when it reports first-quarter 2016 results before the opening bell on Apr 28. In its Q1 results, the company expects to see strong growth in the bioproduction and biosciences businesses. Strong productivity and incremental cost synergies are expected to improve operational efficiency going forward. Moreover, the company's recent decision to buy Affmetrix is expected to boost its offerings in the fast-growing flow cytometry market through an advanced antibody portfolio.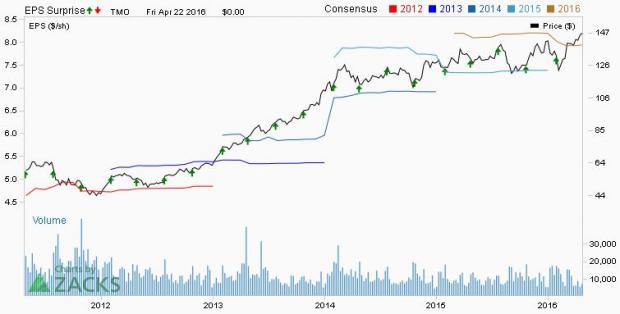 (Read More: Will Thermo Fisher Exceed Q1 Earnings Expectations?)
Varian Medical Systems, Inc.VAR: This company manufactures medical devices and software to treat oncology and other medical conditions. Varian will report its second-quarter fiscal 2016 earnings results on Apr 27, after the market closes. We expect Varian to benefit from higher demand for its international products, particularly in China and BRIC countries. Moreover, the company's efforts to improve cost by reducing headcount and streamlining operations will boost profits despite the foreign exchange headwinds.
(Read More: Can Varian Medical Pull a Surprise in Q2 Earnings?)
Stay tuned! Check back later for our earnings coverage of these stocks.
Want the latest recommendations from Zacks Investment Research? Today, you can download 7 Best Stocks for the Next 30 Days. Click to get this free report >>
Want the latest recommendations from Zacks Investment Research? Today, you can download 7 Best Stocks for the Next 30 Days.
Click to get this free report
THERMO FISHER (TMO): Free Stock Analysis Report
VARIAN MEDICAL (VAR): Free Stock Analysis Report
HOLOGIC INC (HOLX): Free Stock Analysis Report
EDWARDS LIFESCI (EW): Free Stock Analysis Report
To read this article on Zacks.com click here.
Zacks Investment Research