Speaker Boehner Readies Final Sellout As Debt Ceiling Debacle Looms by Stefan Gleason, Money Metals Exchange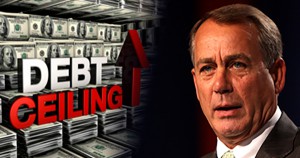 It's campaign season, and that means non-stop media coverage of candidate polls, quips, gaffes, tweets, emails, controversies, lies, and scandals. It all makes for a good soap opera. Unfortunately, it's almost all irrelevant in the big picture.
The media prefer to focus on the sideshow rather than the 800-pound gorilla in the room: the looming debt crisis. Nothing that comes out of a pundit's mouth or a Hillary Clinton email will close the $210 trillion long-term fiscal gap the U.S. now faces.
More immediately, Congress faces a likely debt ceiling debacle in the next few weeks.
First up, Members of Congress are considering full funding for Obama's budget, and the fiscal year begins October 1st. Not surprisingly, the Obama administration's new budget calls for spending much more than the federal government will take in. So Congress will need to raise the statutory debt limit within a few weeks in order to make that spending possible.
Disgraced Speaker Boehner Vows to Ram through More Deficit Spending before Exiting
To their credit, fiscal conservatives have just forced Speaker John Boehner (R-OH), a proponent of runaway deficit spending, to announce his resignation. But Boehner is defiantly vowing to ram through Obama's budget and a higher debt limit before his exit in 30 days.
Meanwhile, the chief Republican in the Senate, Majority Leader Mitch McConnell, recently called efforts to rein in Obama's spending proposals "an exercise in futility."
If enough members of Congress raise enough of a fuss, they can still prevent a debt limit increase from going through. But the Treasury Department says the "extraordinary measures" it's taking will only keep the government funded into...
More