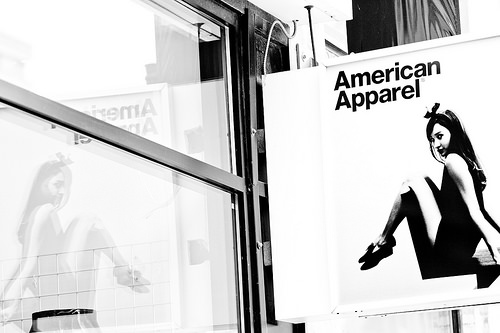 American Apparel (AMEX: APP) is close to bankruptcy.
The once uber-sexual company has attempted to make a turn-around, hiring a new CEO at the beginning of the summer and changing its marketing plans in order to boost sales. However, year-over-year, stock is down almost 90%, CNN Money reported.
According to a recently reported balance sheet from the LA-based clothing company, sales for the most recent financial quarter are down 17%. Further, the company only has a reported $6.8 million on hand currently.
Under the leadership of its new CEO, the company is planning to cut costs for $30 million over the next year or so, according to CNN Money. This is part of a larger strategy in order to avoid bankruptcy by rearranging and refinancing its debt, which is now reported at a whopping $90 million.
"The decline in comparable sales was attributable to the lack of new style introduction for the spring and summer selling season," American Apparel said in a press release, according to CNN Money.
Dov Charney, the former CEO of American Apparel is currently under a restraining order from the company that prevents him from speaking publicly about it. Charney was fire last year for reported sexual misconduct involving employees and models.
According to CNN Money, the push for extremely sexual advertising came from Charney, for the most part and although the company has since changed its strategy, is still struggling.
As much time it took for Charney to tarnish the reputation of American Apparel as an inclusive brand is how long it will take to fix it. Sales spikes are not going to come over night, it takes sometimes years for company's to regain the trust of customers.
For more business and financial news, click here.
*This is editorial content and expresses the opinion of the reader.