By John S. Tobey
The first step in a correction phase is now complete. That first step involves shifting from confident bullishness to uncertainty. Evidence of the shift is inThe Wall Street Journal articles: From October 1's "Investors See Reasons To Jump Into Stocks" to October 11's "Dow Erases Gains for the Year – Tumultuous Week Shatters Market Calm as Global Growth Fears Rattle Investors."
Why the change in the last ten days?
On October 1, the stock market was already off its highs and was contending with signs of weakening growth (e.g., "Housing, Consumer Numbers Down" and "Oil Tanks as Supply Overwhelms Demand" in the same newspaper). However, bull market thinking was still the prevailing view, and the positive October 3 employment report reaffirmed it.
Then the news turned predominately negative this past week. On Tuesday, Germany's poor growth report heightened global growth worries, and helped the U.S. stock market fall sharply. Wednesday offered a seeming reprieve after the Fed released its 3-week old minutes late in the day. Then, having second thoughts, the market more than reversed itself on Thursday. Friday, the market piled it on with an unusual late day selloff in the already negative week.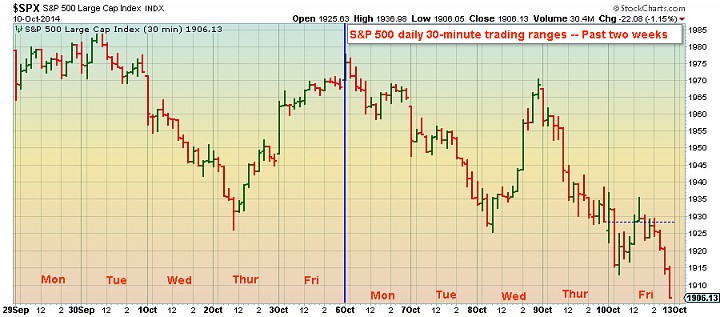 Chart courtesy of StockCharts.com
That did it. With the market well off its highs and fundamentals deteriorating, positive outlooks were overwhelmed, leading to a negative mental shift.
So, what now? Is it time to be contrarian and buy?
Probably not, for the following reasons:
First, the growth outlook is less robust and more unsure. Concerns about global growth, international strife and central bank maneuverings have ramped up uncertainties. Therefore, there are no longer the positive expectations needed to support previous valuations and resume the 2013-14 bull market.
Second, the technical picture is weak. The 2013-14 bull market was so steady that it produced few obvious (widely-accepted) support points. Therefore, it will take time to reestablish foundations upon which stocks can base upward moves.
Third, the contrarian signs are missing. Issues like newsletter bearishness (see "A Key Indicator For This Stock Market: The 'US Adviors' Sentiment Report'"), commentary tone and stock price behavior do not match that of previous selloff troughs. While uncertainty rules now, there is not the negative fundamental outlook and concern about stocks (in other words, "bearishness") that accompany a correction bottom.
The bottom line
The past ten days' weak growth news and falling stock market produced the first correction step – from bullishness to uncertainty.
Importantly, with the market now in a correction period, it is likely not done falling because the usual contrarian signs of a bottom are missing. Those indications are what would complete the correction's second step: from uncertainty to bearishness.
So, it's too early to buy, then?
Generally, that is true, but not absolutely. Opportunities can pop up at anytime. It is just that there obviously are fewer standouts in a down market with weakening fundamentals. Another exception is buying "early." With the realization that timing a market downturn is not foolproof, it can pay to go ahead and buy an excellent, long-term holding when the price looks "desirable" (i.e., not waiting for "cheap," only to end up with nothing).
Source:http://www.forbes.com/