SPECIAL NOTE: With new computer virus outbreaks and big data breeches becoming more frequent with more extensive damage, the cybersecurity industry can be a promising investment opportunity. That's why we just released our latest special report, "Cybersecurity: An Investor's Guide to Locking Down Profits." Brian Bolan delves into the information you need to make well-informed investment choices in this space. Plus, he highlights 4 cybersecurity picks with profit potential. Log on to Zacks.com to read it now.


The market's meager gains on Friday stopped the bleeding of Thursday's selloff and the three-day losing skid…but the real rebound came today. Stocks mounted a solid comeback on Monday in the absence of any further problems out of North Korea.

"A respite from all of the North Korean talk and a belief that last week's NK inspired sell-off was overdone allowed the market to play catch up today," said Kevin in Options Trader.

Technology led the way and helped the NASDAQ to soar 1.34% to 6340.2. The S&P increased 1% to 2465.8, and the Dow is knocking on the door of 22,000 yet again with today's advance of 0.62% to 21,993.7.

In the portfolios, Black Box Trader had the most activity with six swaps in its weekly adjustment, including a double-digit winner. Learn more about these moves in the highlights section below, and take a look at this week's Zacks Confidential and some analysis from Momentum Trader.

Today's Portfolio Highlights:

Black Box Trader: The portfolio had a big winner today with Kemet Corp. (KEM), which was sold for a strong return of 25.7%. Five other names left the service as well, including:

• Live Nation Entertainment (LYV, +4.5%)
• CNH Industrial (CNHI)
• Quanta Services (PWR)
• Wal-Mart Stores (WMT) and
• KB Home (KBH)

The new buys that replaced these names are:

• Delta Air Lines (DAL)
• Caesars Entertainment (CZR)
• Gap Inc. (GPS)
• Lumber Liquidators (LL)
• Pilgrim's Pride (PPC) and
• Unum Group (UNM)

Read the Black Box Trader's Guide to learn more about this computer-driven service designed to take the emotion out of investing.
Zacks Confidential: It may come as a bit of a surprise, but the individual merits of a particular company are NOT the leading driver of a stock's price. Instead, investors would be wise to look at the performance of a sector/industry first…and THEN find a company. In this week's Zacks Confidential, Steve has asked Eric Dutram to shine a light on a resource here at Zacks that you can use to find the hot industries. Learn about the most impressive market segments and the ones to avoid, along with a couple of recommendations by clicking: How to Use the Zacks Heat Map to Find Hot Sectors.

Momentum Trader: "Last week I ended by telling everyone it was time to short WW3. This week, the world got the message. No incendiary comments over the weekend, well at least not sent North Korea's way, and volatility finds the floor. Funny what happens when the NASDAQ hits the 50-day isn't it?

"The recent interaction with the 50-day should be viewed as healthy and not as the beginning of the end of the bull market. Moves like this help to shake out some of the excess and push the weak hands to the sidelines. We've got some geopolitical risk and more specific risk to tech stocks which is putting the NASDAQ on its heels here. This is more settling than the alternative. If the NASDAQ were screaming up through highs and ignoring the risks, that would be a market which made me nervous.

"The short WW3 trade worked again. I promise you, there will only be one time when that trade doesn't work. Let's hope we never have to see it for the obvious reasons. The moral of the story here is that you are right in being cautious but don't let your caution price you into hysteria." -- Dave Bartosiak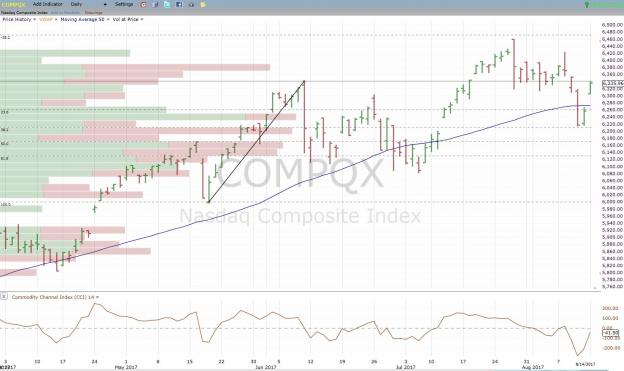 All the Best,
Jim Giaquinto
Recommendations from Zacks' Private Portfolios:
Believe it or not, this article is not available on the Zacks.com website. The commentary is a partial overview of the daily activity from Zacks' private recommendation services. If you would like to follow our Buy and Sell signals in real time, we've made a special arrangement for readers of this website. Starting today you can see all the recommendations from all of Zacks' portfolios absolutely free for 7 days. Our services cover everything from value stocks and momentum trades to insider buying and positive earnings surprises (which we've predicted with an astonishing 80%+ accuracy).
Click here to "test drive" Zacks Ultimate for FREE >>
Zacks Investment Research