For the last couple of weeks, Pfizer (PFE) stocks have been trading within a tight range roughly between 34.72 and 35.27. 
PFE 1H Chart 8/22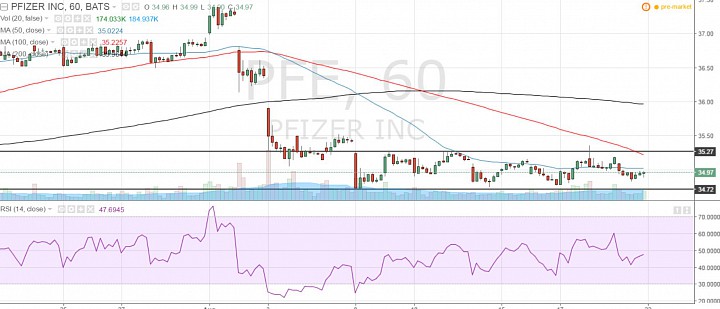 (click to enlarge)

Consolidation in a bearish run:
- In the short-term, PFE is bearish, falling from 37.36 to 34.72. 
- Staying within this short-term frame-work, we can see bearish momentum as the 1H RSI holds under 60. 
- Price is also holding below the 200- and 100-hour SMAs, which reflects the bearish bias. 
- However, let's examine the longer term time-frame:
PFE Daily Chart 8/22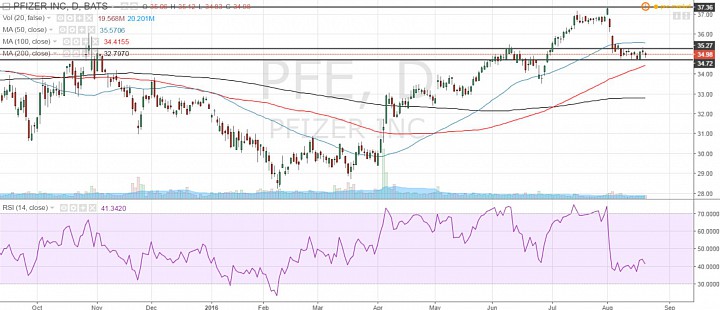 (click to enlarge)
Bullish year:
- The daily chart shows the PFE has enjoyed mostly a bullish year since February. 
- The rally has put price above the 200-, 100-, and 50-day SMAs, though price has recently fell back below the 50-day SMA
- The RSI reflects maintenance of bullish momentum as it holds above 40 after pushing above 70.
- Most importantly, price action has a pattern of higher highs and higher lows that is intact. 
- Because of the prevailing bullish bias and momentum, I think a bullish breakout will be more likely. 
- A break above 35.30 should open up the 37 area. Also, because the prevailing uptrend would be intact, there would be potential for price to push through that 37.36 high, and open up the 40.00 psychological level. 
Bearish scenario:
- If price instead falls below 34.70, we should anticipate some further bearish correction. 
- However, I would limit the bearish outlook.
- First I would limit it to the 33.00 area, which involves some support/resistance pivots. 
- The most aggressive bearish outlook would be limited to the 30.50 area. 
News From TheStreet
Medivation (MDVN) CEO David Hung has once again delivered big-time value for shareholders as Pfizer (PFE) announced Monday a deal to buy the cancer drugmaker for $14 billion.

Acquiring Medivation will strengthen Pfizer's oncology franchise, which has lost ground in recent years to some Big Pharma competitors. But Medivation was a highly sought-after takeover target, so Pfizer is being forced to outbid other suitors, raising concerns that it may be paying too much. (Full article from TheStreet.com)