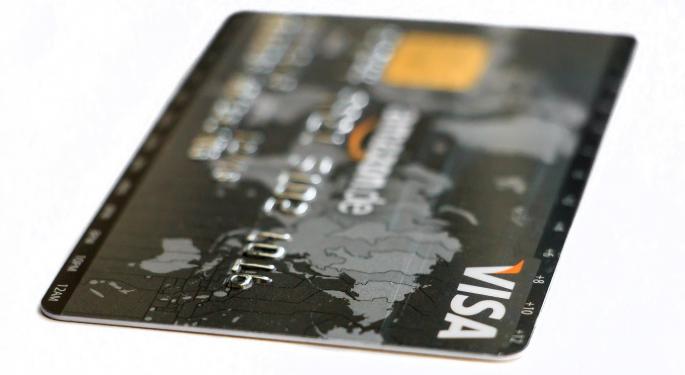 Following the 2 percent decline in Visa Inc V shares since November 22, when the company announced its U.S. debit routing rule changes, Bernstein's Lisa D. Ellis recommends buying the dip.
Ellis maintains an Outperform rating on the company, with a price target of $97.
Why Buy The Dip?
"We expect Visa's stock to double in four years, driven by a 18 percent EPS CAGR at least through 2020, as Visa Europe synergies add 3–4ppt of EPS acceleration to Visa's 'high quality compounder' business model comprising double-digit volumes, defensible yields, opex leverage, and cash returns," the analyst mentioned.
Ellis believes, despite the investor attention it received, the routing rule changes are a "non-event", stating that Visa's U.S. signature debit franchise has already faced risk of conversion to PIN, while being able to maintain robust growth of 7–8 percent.
"EMV increases the risk of PIN conversion by proliferating PIN pads — a known risk since the EMV conversion began. Visa attempted to mitigate this risk with updated debit routing rules," the analyst went on to say.
However, Ellis also pointed out that these new rules have triggered a "backlash," and the company has finally agreed to return to status quo.
The EMV conversion is expected to lead to incremental pressure for Visa's U.S. signature debit franchise, although some trends do favor signature debit over PIN, especially with regard to a shift to online shopping, remote order-and-pay and proximity pay, along with a lighter regulatory environment expected under the Trump administration.
"Given these crosswinds – EMV favoring PIN, mobile payment and Trump administration favoring Signature – we believe it is, at this point, unclear whether Signature will gain or lose share vs. PIN over the next several years," the analyst, however, added.
At last check in Monday's pre-market, Visa shares were up 0.55 percent at $80.57.
Date
Firm
Action
From
To
Oct 2016
Guggenheim
Downgrades
Buy
Neutral
Oct 2016
UBS
Maintains
Buy
Oct 2016
Drexel Hamilton
Maintains
Hold
© 2016 Benzinga.com. Benzinga does not provide investment advice. All rights reserved.