Action camera maker, GoPro, Inc. GPRO, recently announced that it has shipped the first Fusion pilot units to production teams interested in exploring the use of spherical and 360-degree cameras in production processes.
These include Golden State Warriors, USA TODAY NETWORK, FOX Sports, AccuWeather, Digital Domain, Getty Images, Legend 3D, Inc., Rapid VR, RYOT and travel vlogger, Louis Cole (FunForLouis).
An Extensive Pilot Program
GoPro has plans to commercially roll out its content creation tool, Fusion, by the end of 2017. The details on pricing and other specifications of the product will be revealed during the same time. Going forward, the company has plans to add more pilot partners to the program. Since April, GoPro has been scouting for content professionals willing to use the 5.2K spherical camera to produce stirring content on Fusion.
Founder and CEO, Nicholas Woodman, believes that feedback from these professionals will be crucial in refining the product before its launch. The pilot partners of Fusion will be working on a host of potential use cases of the product. These will range from news and weather to sports and folks. The company remains confident that Fusion and its partners will take immersive storytelling to the next level.
Braving Through Challenging Times
GoPro's journey from a near $100 dollar stock back in October 2014 – when it had peaked – to an under $10 stock now has been a harrowing one. Colossal losses, missed deadlines, stiff competition and the infamous Karma launch stumble have left the stock battered. In 2016, the stock lost 50% of its value compared with the Zacks categorized Audio/Video Home Production industry's gain of 11.2%.
Year to date, the company shares have declined 8.7%, in stark contrast to the industry's average gain of 34.0%.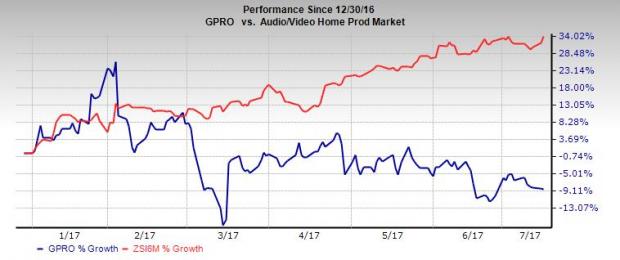 Though the Zacks Rank #3 (Hold) company has not been idle all this while, it appears to have a long way to go before earning back the approval of Wall Street. Things began to look up when the company managed to beat the Zacks Consensus Estimate in the first-quarter 2017 results reported in April.
Moreover, GoPro's second consecutive revenue growth after four successive quarters of sales declines reassured investors to some extent.
Currently, GoPro is betting big on its restructuring and cost-cutting efforts to stage a comeback. Luckily, the measures are taking hold and there is room for further improvement. The company's renewed focus on making superior hardware and software products, loyal customer presence and dominant social media foothold are impressive as well.
GoPro's venture in the drone space was not quite spectacular and it is struggling to hold its own against the likes of DJI and AeroVironment, Inc. AVAV. Despite that, one can hope that the upcoming Fusion launch will be the catalyst this company needs. Therefore, it only remains to be seen whether Fusion can fend off competitors like Garmin Ltd.'s GRMN VIRB 360 and VOXX International Corp.'s VOXX 360Fly.
You can see the complete list of today's Zacks #1 Rank (Strong Buy) stocks here.
More Stock News: 8 Companies Verge on Apple-Like Run
Did you miss Apple's 9X stock explosion after they launched their iPhone in 2007? Now 2017 looks to be a pivotal year to get in on another emerging technology expected to rock the market. Demand could soar from almost nothing to $42 billion by 2025. Reports suggest it could save 10 million lives per decade which could in turn save $200 billion in U.S. healthcare costs.
A bonus Zacks Special Report names this breakthrough and the 8 best stocks to exploit it. Like Apple in 2007, these companies are already strong and coiling for potential mega-gains. Click to see them right now >>
Want the latest recommendations from Zacks Investment Research? Today, you can download 7 Best Stocks for the Next 30 Days.
Click to get this free report
AeroVironment, Inc. (AVAV): Free Stock Analysis Report
Garmin Ltd. (GRMN): Free Stock Analysis Report
VOXX International Corporation (VOXX): Free Stock Analysis Report
GoPro, Inc. (GPRO): Free Stock Analysis Report
To read this article on Zacks.com click here.