USDJPY : Daily Chart
USDJPY is able to hit above 105 as upbeat US data yesterday fueled the demand for US dollar. However on the other hand Yen came under pressure amid talks that Japanese Prime Minister Shinzo Abe might appoint a minister to shift the national pension funds toward riskier or higher yielding assets. The pair is testing the resistance at 105.30 which earlier also resisted the pair in moving up. The pair according to the stochastic oscillator seems to be in the overbought zone and might pause its gains now. But the breakout above the resistance trend line of the rising channel within which it was trading earlier is signaling a bullish trend and the pair may try to cross above this resistance once again.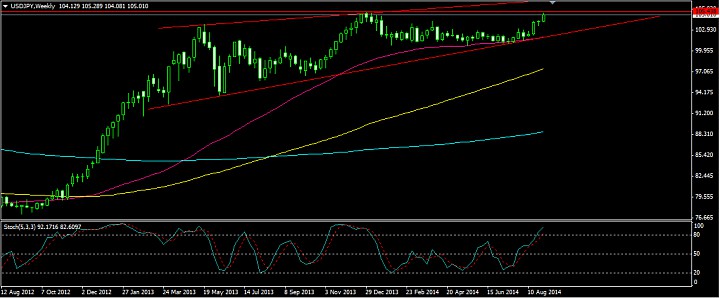 USDJPY : Weekly Chart
However as I mentioned in my blog yesterday, the pair seems to be trading within a rising wedge and thus finally the pair have to decline but it will move above the current resistance level at 105.43 for once and will find the next nearest resistance from the resistance trend line of the wedge. If it will continue to rise above the wedge, it may fade away the bearish outlook on the pair for long term.