Alphabet GOOGL, Google's holding company looks good heading into its first quarter earnings announcement on Apr 22 after the bell.
The company's Zacks Rank #3 (Hold) is not so great I know, but when paired with the positive Zacks Earnings ESP of 4.71%, indicates a reasonably strong likelihood of a positive earnings surprise this quarter.
Hold or Buy-rated stocks (Zacks Ranks #1 or #2) and a positive ESP in combination indicate a positive earnings surprise, but sell-rated stocks (Zacks Ranks #4 and #5) are generally not recommended going into the earnings announcement.
In Alphabet's case, the surprise history leaves a lot to be desired, since the company has missed estimates in three of the last four quarters, although by a small margin. The good news is however that the company beat estimates in the last quarter, which could be a signal of the changing trend.
Similar to many other technology companies like Microsoft MSFT, Apple AAPL and Western Digital WDC, Alphabet's estimates have been trending down, which can make it easier to beat estimates.
Despite the relatively rich valuation, Alphabet's surprise chart shows that the shares have reacted to earnings news in every quarter in recent history. So a positive surprise is highly likely to send the shares up.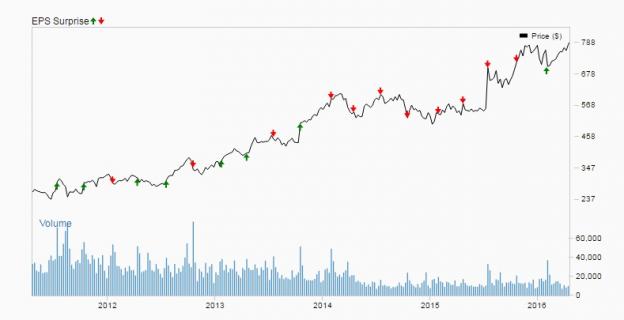 <
Alphabet has started reporting results in the Google and Other Bets segments. While other bets includes a host of businesses (Fiber, Verily, Calico, Nest, self-driving cars and X Labs), most of the revenue is likely coming from Nest, which is growing nicely. The other businesses are still in the investment phase.
That means the bulk of the business is still all about Google.
What Happened Last Quarter
Revenue and earnings beat estimates in the last quarter by 2.42% and 6.17%, respectively. On the Google side of things, there was strong growth on all fronts despite continued pricing pressure in the core search business. It succeeded because paid click volumes soared (up 31% in the last quarter). Another point of strength was "other revenue", which was spurred by Google for Work and cloud revenue, as well as Play Store sales.
What To Expect in Q1
Google's cloud business trails Amazon's AMZN AWS, Microsoft's Azure and also IBM according to some and the company likely did less than a billion dollars in sales in the last quarter. But Google has turned more aggressive in recent times, hiring Dianne Greene to run things. That said, it still lumps together SaaS (like work and other apps) and IaaS (infrastructure services as offered by AWS and others), so it's hard to tell how much progress it's made at this stage. Google could shed more light on this.
The core advertising business has multiple challenges mainly as a result of the increasing competition. But Google's volumes have been phenomenal, especially considering that the growth is coming off a very large base. It appears to be sacrificing prices in the bargain, which doesn't feel like a bad bargain given the continued revenue growth. TrueView ads are possibly to blame for this!
The company's strength in mobile is likely to continue. That's because, unlike previously assumed, it's not a great experience to have a huge load of apps on your phone. Being able to search them for content and use makes the browser an extremely important tool. Google can cater to a lot of searches through mobile browsers, being the default search on Android and iOS devices (which means practically every mobile device). Its app indexing strategy is superb in this respect.
Another important platform is YouTube. Google has both paid and free models so people can choose whatever system they like. For the free model, its TrueView ads continue to do extremely well (according to management). The company doesn't break out revenue under the different models, so results generally lack granularity. But if trueView continues to grow at a very rapid pace, the company may be required to disclose more before long.
In the last quarter, the board authorized the repurchase of an additional $514K shares, taking the amount remaining authorized to $3.7 billion. So share repurchases will continue.
Want the latest recommendations from Zacks Investment Research? Today, you can download 7 Best Stocks for the Next 30 Days. Click to get this free report >>
Want the latest recommendations from Zacks Investment Research? Today, you can download 7 Best Stocks for the Next 30 Days.
Click to get this free report
WESTERN DIGITAL (WDC): Free Stock Analysis Report
AMAZON.COM INC (AMZN): Free Stock Analysis Report
APPLE INC (AAPL): Free Stock Analysis Report
MICROSOFT CORP (MSFT): Free Stock Analysis Report
ALPHABET INC-A (GOOGL): Free Stock Analysis Report
To read this article on Zacks.com click here.
Zacks Investment Research