Net income declines 5% to $1.58 billion in second quarter
Morgan Stanley posted profit that beat analysts' estimates as revenue from wealth management and bond trading exceeded expectations.
Net income fell 5 percent to $1.58 billion, or 75 cents a share, from $1.67 billion, or 79 cents, a year earlier, the New York-based company said Wednesday in a statement. Twenty-one analysts surveyed by Bloomberg estimated 60 cents on average.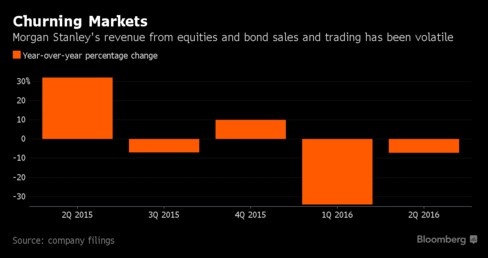 Chief Executive Officer James Gorman, 58, pivoted the firm's emphasis to the brokerage business as regulation and low interest rates pinch revenue from trading bonds. He scaled back the firm's struggling fixed-income division last year, and in January set a $1 billion cost-cutting goal. The firm's target for return on equity is 9 percent to 11 percent by the end of 2017. It was 8.3 percent in the second...
More