As credit markets have been indicating for 15 months, 94-year-old consumer-electronics chain RadioShack has finally pulled the ripcord...
*RADIOSHACK FILES FOR BANKRUPTCY PROTECTION AS LOSSES MOUNT
*RADIOSHACK WILTS UNDER BIG-BOX, ONLINE COMPETITION
Additionally, Bloomberg reports that a post-bankruptcy deal is being worked on with Sprint.
It's been a wild ride for stocks...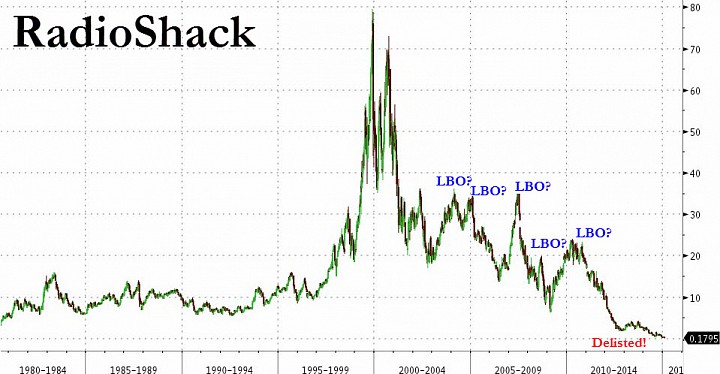 It's over...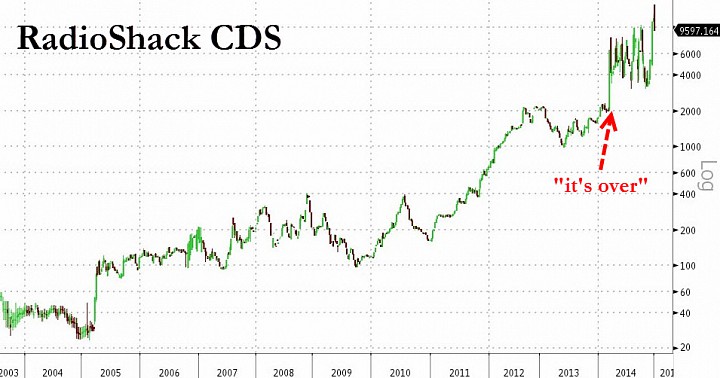 Bloomberg additionally reports,
RadioShack completing deal with Sprint that would let company name live on as store-within-a-store in as many as 1,750 locations, a person familiar with the deal tells Bloomberg's Jodi Xu Klein.

 

RadioShack to sell 1,500 to 2,400 stores to Sprint and Standard General LP, rest would be closed as part of bankruptcy filing, which may be imminent
*  *  *