Moments ago, the most hyped stock in the market announced Q3 results... and missed while burning a record amount of cash; however Musk's contagious optimism once again dominated the outlook and as a result the stock is up by 7% after hours.
The quarter highlights:
Telsa delivered 11,603 vehicles in Q3
Q3 non-GAAP gross margin 25.1%, dropping from 29.4% a year ago; adding "we expect non-GAAP Automotive gross margin to decline slightly from Q3"
The company trimmed its own guidance for full year deliveries from 50,000-55,000 to 50,000-52,000
Non-GAAP Revenues of $1.24 billion came in line with estimates, although something strange emerged: while non-GAAP revenue rose from Q3 by about $50MM, its GAAP revenue actually declined by $18 million to $937MM. The difference: a surge in "revenue deferred due to lease accounting" which soared from $242MM in Q2 to $307MM in Q3.
Non-GAAP EPS of $(0.58) missed expectations of a ($0.56) print. GAAP EPS was a disastrous (1.78)
But most troubling, as usual, was the ongoing cash burn from a company which appears allergic to generating any positive cash flow. At ($595) million in free cash flow, this was the worst cash burning quarter in Tesla history, which supposedly was to be expected with the rollout of the Model X.
The results in charts:
Revenue: both GAAP and non-GAAP:
EPS: both GAAP and non-GAAP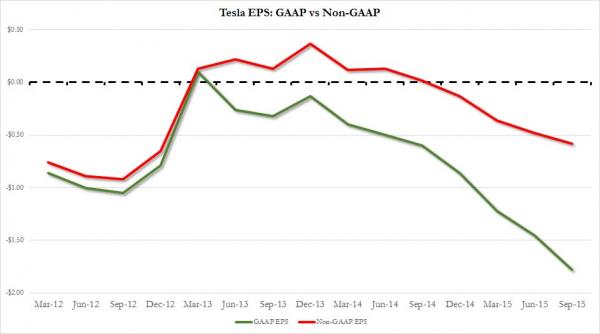 And Free Cash Flow: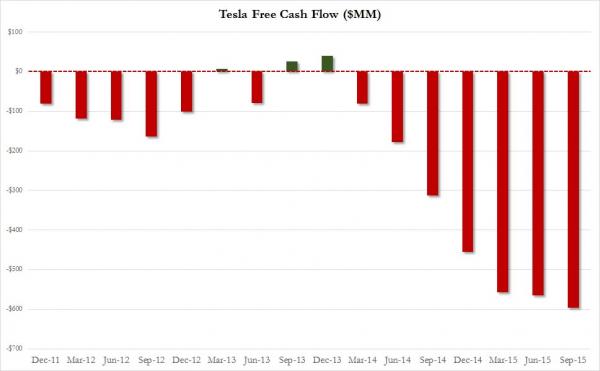 And yet, despite what were clearly disappointing historic results, the stock is up 7% after hours. Why? One simple reason: its forecast was as usual, bullish.
The company sees 17,000-19,000 deliveries in Q4, which was modestly higher than the consensus estimate of 16,500
It plans to invest $500MM in Q4 raising full year CapEx from $1.5 billion disclosed previously, to $1.7 billion now.
Some more of Musk's infamous bullishness (and blaming production bottlenecks):
Model S production and deliveries are on track to achieve our initial Q4 plan. The primary limiting factor to higher Q4 deliveries is the near term ramp of Model X production, with the biggest constraint being the supply of components related to the second row monopost seats. To eliminate these supply constraints and achieve a better overall outcome, we have brought manufacturing of these seats in-house. In addition we, and some of our other Model X suppliers, are still ramping up and fine-tuning production. These factors add uncertainty to our build plans during Q4, but we feel emphasizing quality is the right decision for our customers.

 

During the next several quarters, operating leverage should improve with revenue and gross profit both growing faster than operating  expenses. Operating expenses should increase slightly in Q4, but reflect a further decline in Model X development expenses, offset by increased costs related to expanding our global sales capability and developing Model 3. We are on track to unveil Model 3 in late March 2016.
But most important was Musk's commentary on China which for many was the biggest wildcard. This is what he said:
In China, our newest major market, Q3 Model S orders increased substantially from Q2, due in part to the opening of two new retail locations. We expect order growth in China to remain strong with more store openings and the recent policy changes in Beijing and other major cities that allow buyers of Tesla vehicles to bypass license plate restrictions.
In short, despite the miss, despite the epic cash burn (Tesla is down to $1.5 billion in Cash or less than 3 quarters in cash), the outlook was ok, and China was not a disaster, and that alone was enough to spook the shorts into a covering spree that at least for the time being has pushed the stock higher by 7%.