No Bottom in Sight for Silver ETFs

28 august 2014
Precious metals like gold and silver started off the year with much promise after staging a counter trend rally that defied their tremendous fall last year.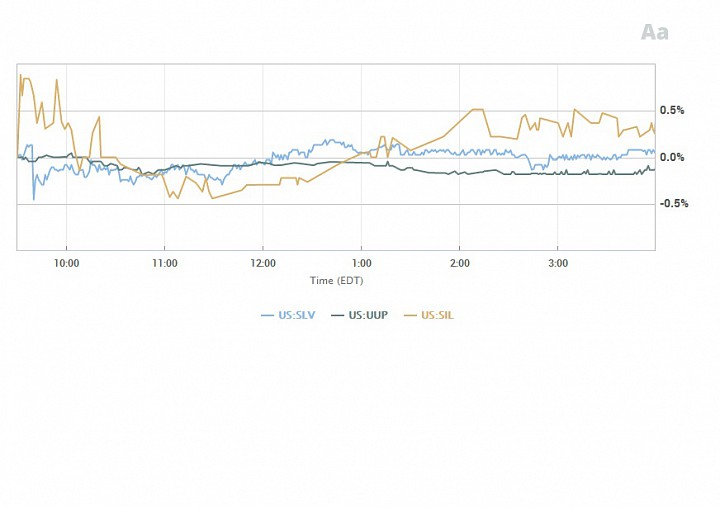 However, the sellers have re-established downward momentum and are focusing their efforts specifically in the silver market.
According to Bloomberg Businessweek, short bets in silver futures contracts reached a 14-month high last week as prices fell to new August lows.  Investors are clearly increasing their net short exposure on the expectation that this hard asset will re-test its June lows.
The iShares Silver Trust has over $6.4 billion dedicated to tracking the daily price movement of silver bullion. 
This ETF is designed to hold physical silver bars in vaults in London and New York as a proxy to directly owning this precious metal. 
SLV is hugging the flat line for the year but has declined 10 percent since its July high.  The next point of reasonable support on the chart is at $18 where it has been tested multiple times before.  A break below that level would likely lead to another wave of fear-induced selling in the precious metals market. 
Related Link: 3 Global ETFs With Sky-High Dividends
Falling interest rates and a rising U.S. dollar have been additional reasons for investors to sell silver as an inflation hedge. 
The PowerShares U.S. Dollar Bullish has been trending strongly higher over the last two months and may indicate investors exchanging money back into paper assets rather than commodities. 
Another key ETF to watch in this space is the Global X Silver Miners ETF which provides exposure to 25 companies engaged in mining, exploration, and refinement of silver.  SIL has $246 million in total assets and charges an expense ratio of 0.65 percent. 
The largest holding in this ETF is Silver Wheaton which controls 12.5 percent of the funds asset allocation. 
So far this year, SIL has managed to hold up better than silver bullion which is why this ETF will be one to watch if commodity prices begin to finally turn upward.  Only time will tell when this ubiquitous precious metal will finally reverse its downward slide. 
Source: http://www.marketwatch.com/
Voting is over
Waiting for


the right answer