After the
3/19 session FOMC event risk
, the USD rallied. In some pairs, this continued into the 3/20 session. 
The key fundamental data were 
1) SNB decision
2) US data - jobless claims, existing home sales, and Philly Fed
The SNB held as expected. I looked at the
USD/CHF challenging a falling trendline
earlier.
EUR/USD fell further
, breaking a rising channel support. I also looked at this break earlier today.
After a sharp FOMC-sparked rally, the USD/JPY is holding roughly between 102.20 and 102.70 as seen in the 1H chart below.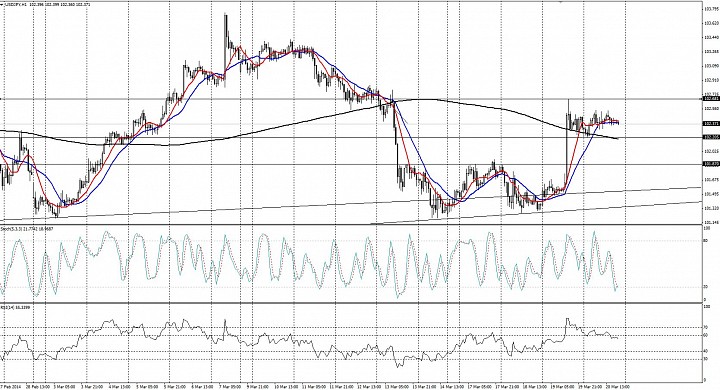 (USD/JPY 1H Chart)

At the moment there is no indication of direction for USD/JPY. However, the bearish mode of 2014 seems to have neutralize, and the market could be looking to extend the rally USD/JPY head heading into the year.

GBP/USD is extending its C wave in the context of an ABC correction.


AUD/USD and NZD/USD found support today. The AUD/USD looks like it is turning from neutral to bullish, but has not made that convincing push.
NZD/USD however has been bullish
, but is coming up against a triangle in the weekly candlestick time-frame.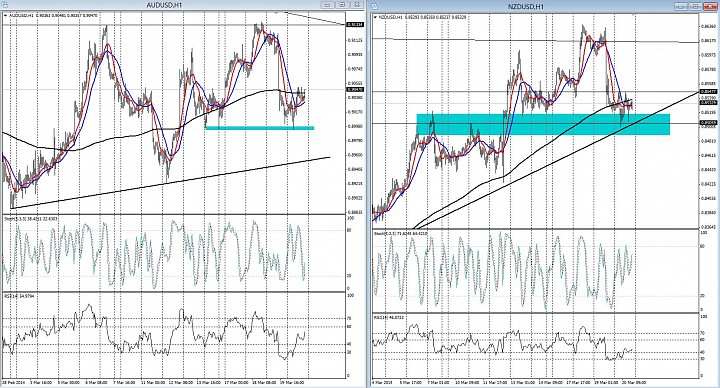 (Left: AUD/USD, Right: NZD/USD 4H Charts)

Gold also found support during the US part of the 3/20 session as it tested a rising channel that has held price in a bullish mode in 2014.
Finally, USD/CAD retraced a bit after briefly breaking above yesterday's highs. This looks like a prime candidate for the buying on a dip strategy.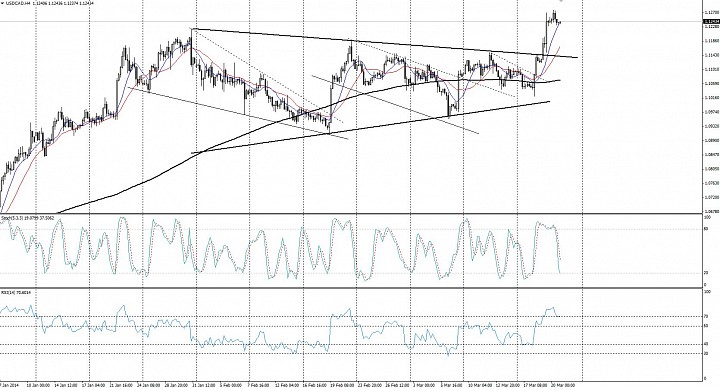 (USD/CAD 4H Chart)