Today, we're doing a dividend-stock smackdown. A grudge match. A fight to the finish. Two bank stocks enter, but only one will leave.
It's SunTrust Banks' (NYSE:STI) 2.2% dividend yield versus Regions Financial's (NYSE:RF) 2.3%. Each bank has its own strengths and weaknesses, and the only way to find a winner is to pit them head to head. Enough talking: Let's get it on!
Round 1: Are either of these banks paying out too much of their earnings as dividends?
Dividend stocks work only if the dividend keeps coming, so it's important to understand how thinly a company is spreading itself to make these quarterly payments.
In this case, neither SunTrust nor Regions is paying out an excessive portion of its earnings as dividends. SunTrust has a dividend payout ratio of 26% on a trailing-12-month basis, and Regions has a 33% ratio. Both of those are perfectly acceptable.
Another way to examine this question is by contrasting the bank's diluted earnings per share against the dividend per share. As the following chart shows, both banks have a healthy cushion of stability and margin between earnings and the dividend. Regions does take a half-ding for its troubles back in 2012, when the bank took a one-time, non-cash charge related to an acquisition and reorganization in its investment banking and brokerage division.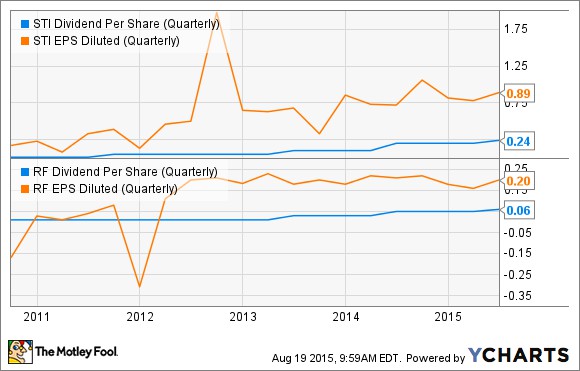 Round 1 score: Draw.
Round 2: Are there any issues with earnings or capital to worry about?
When a bank earns a profit, it must decide what to do with it. It can be reinvested into the company. It can be held to boost capital. It can buy back shares. Or it could be paid out as a...
More