S&P futures rose 0.1% on the last trading day of the month, trailing European and Asian markets boosted by China's July Mfg. PMI, which despite declining from from 51.7 to 51.4, and missing expectations of 51.5, saw the construction index rise to its highest level since December 13, sending Chinese iron ore futures surging and the European commodity sector broadly higher.
DCE Iron ore futures +6.43% pic.twitter.com/z7TDGWHOkQ

— Sunchartist (@Sunchartist)

https://twitter.com/Sunchartist/status/891836499913719808
In equities, the MSCI All-Country World Index advanced 0.1%, and the MSCI Emerging Market Index increased 0.3%, while MSCI's broadest index of Asia-Pacific shares outside Japan reversed early losses to rise 0.25%. Stocks have rebounding from Friday's selloff spurred by raw-material producers on "optimism the global economy is gathering momentum" amid "evidence points to resilient global growth, with investors assessing numbers from the world's top three economies" according to Bloomberg.
As noted above, China's official factory gauge showed continued expansion in June, even as it slipped amid government efforts to curb financial risks. Japan's industrial output expanded in June, while data Friday showed the U.S. economy accelerating in the second quarter. Investors remained wary after North Korea conducted a missile test late on Friday that it said proved its ability to strike the U.S. mainland. The U.S. responded by flying two bombers over the Korean peninsula on Sunday. But early jitters dissipated somewhat, with the Korean won reversing losses. The dollar was down 0.2 percent at 1,120.7 won, after jumping almost 0.7% on Friday. South Korea's KOSPI fell 0.2%.
"The geopolitical overhang will likely keep topside moves in check early in the week as the disorganized U.S. and China policy towards North Korea is not helping matters," Stephen Innes, head of Asia-Pacific trading at OANDA, wrote in a note.
In Europe, Anglo American, Rio Tinto Plc and BHP Billiton helped underpin the advance in the Stoxx Euro 600 Index as miners also propelled the MSCI All Country World Index toward a ninth month of gains. HSBC shares jumped as much as 3.7% to the highest since November 2014 on a $2 billion buyback as profit rose. Shares have climbed 26% this year, with the lender accounting for 13% of Hang Seng Index's 24% YTD gain, most after Tencent.
Despite today's 0.3% gain, the Stoxx 600 is flat for the month of July, in contrast with a gain of 2% for S&P 500 over the same period, according to Bloomberg. European stocks have been hurt by a strengthening euro which has fueled concerns for European earnings.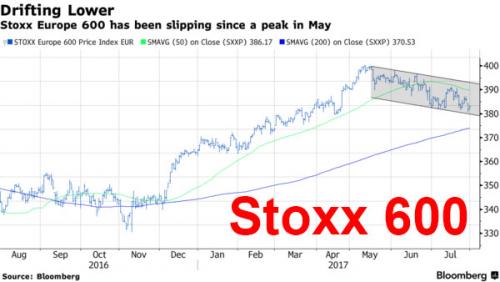 "Global expansion dynamics are well underway," analysts at Candriam Investors Group wrote in a report. "The European recovery is well on track and is leading to above-trend growth in 2017-18. This has led us to increase our profit earnings expectations for euro-zone equities. The economic news flow is starting to become more supportive in the U.S., while emerging markets are benefiting from a good economic momentum."
A quick look at the FX book shows the Canadian dollar is biggest loser within G-10, while the yen and euro are mixed. Sovereign yields are near unchanged with the T-note yield at 2.29%. Asian stocks are broadly higher led by Australia and China.Chinese shares rose 0.6%, buoyed by several leading companies' forecasts for strong mid-year earnings. The blue-chip index and the Shanghai Composite both rose 0.6 percent.Japan's Topix index closed 0.2 percent lower after swinging between gains and losses. Australia's S&P/ASX 200 Index rose 0.3 percent and South Korea's Kospi index added 0.1 percent. Hong Kong's Hang Seng Index added 1.1 percent. HSBC was among the biggest contributors to the advance (more below). West Texas crude traded above $50 a barrel for the first time since May, while copper rose to a two-year high and iron ore surged.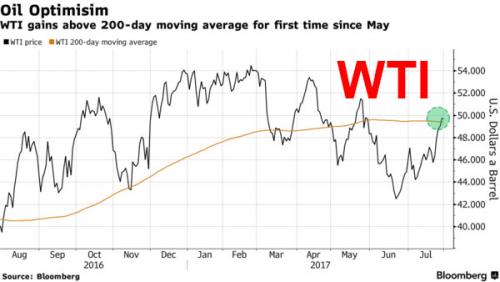 In the Asian session, the dollar index climbed with gains tempered by tensions over the weekend between U.S. and Russia, as wells as North Korea. In Europe, Euro, EGBs largely unchanged as euro area July inflation matches estimates. Pound slips against dollar. The Bloomberg Dollar Spot Index edged higher, paring its fifth straight month of declines, as investors prepare for a data-heavy week that will culminate with the release of non-farm payrolls data for July, while Apple, Pfizer, Tesla and Berkshire Hathaway will report earnings. The euro began the week on a soft note as investors waited for second-quarter growth data due Tuesday.The Swiss franc was little changed against the euro, after posting its biggest weekly decline in more than two years; last week's selloff was triggered by a host of factors, including stop losses and talk of initial public offer-related flows. The ruble slid 1.2% to 60.2550 per dollar, falling for a third day and the most among emerging-market currencies amid heightened geopolitical risks after Russia ordered expulsion of U.S. diplomats. Russian government bonds fell, driving the 10-year yield higher by 9bps.
Also overnight, the BOJ maintained its govt bond purchase plans for August unchanged from July. Below are Bloomberg's comparisons between planned purchase ranges for August against those for July and the amounts BOJ offered to buy at the last operations:
1-to-3 years: 200b-300b yen vs 200b-300b yen for July, 280b yen on July 28
3-to-5 years: 250b-350b yen vs 250b-350b yen for July, 330b yen on July 28
5-to-10 years: 350b-550b yen vs 350b-550b yen for July, 470b yen July 28
10- to-25 years: 150b-250b yen vs 150b-250b yen for July, 200b yen on July 26
More than 25 years: 50b-150b yen vs 50b-150b yen for July, 100b yen on July 26
Up to 1 year: 50b-150b yen vs 50b-150b yen for July, 100b yen on July 26
U.S. crude futures climbed 0.3 percent to $49.87 a barrel, after earlier hitting $50.06, their first foray above $50 in two months. Brent crude advanced 0.5 percent to $52.78, adding to Friday's 2 percent surge. Gold was little changed at $1,268.26 an ounce, after earlier climbing to its highest since June 14.
In rates, the yield on 10-year Treasuries advanced less than one basis point to 2.29%. Germany's 10-year yield climbed one basis point. Britain's 10-year yield fell less than one basis point.
Copper climbed 1.1 percent to $2.91 a pound, the highest in more than two years. Zinc gained 1.1 percent, nickel 0.7 percent and tin 1 percent Gold fell 0.2 percent to $1,266.98 an ounce after rising to $1,271.23, the highest since June 14. Gold remains on course for its biggest monthly advance since Feb., with prices trading near highest level in more than six weeks, as speculation that Federal Reserve will go slow on raising interest rates hurts dollar. Bullion for immediate delivery +2.2% this month, most since Feb.'s +3.1%. "U.S. GDP data was weaker than expected and inflation remains subdued, which could damp Fed rate hike expectations," Guotai Junan Futures says in note. "Gold has scope to rise further in the near term."
Markets are awaiting speeches by Cleveland Federal Reserve President Loretta Mester and San Francisco Fed President John Williams on Tuesday, for further insight into whether the central bank has turned more dovish in light of recently muted inflation.
"It is easy for uncertainty to increase about the Fed's ability to raise rates next year if inflation remains low. We could see the dollar head below 110.00 yen under such circumstances," said Junichi Ishikawa, senior forex strategist at IG Securities in Tokyo.
The slew of corporate earnings continues. Apple Inc., Tesla Inc., Berkshire Hathaway Inc. and Toyota Motor Corp. are all set to unveil results this week. Pending home sales and...
More