The phenomenon known as an O'Neil follow-through day (FTD) materialized in the S&P 500 last Friday, no doubt providing some comfort to many that the worst is behind the market. Along with it, came a few names that may be of interest in an environment where it be a good idea for speculators to start increasing their exposure.
Following a decline in one of the three major averages, the FTD concept calls for ignoring the first three trading days off the low. Beginning with day four, the first day with a substantial advance (viewed here as 1.4% minimum) occurring on volume higher than that of the prior day is an FTD (see chart below).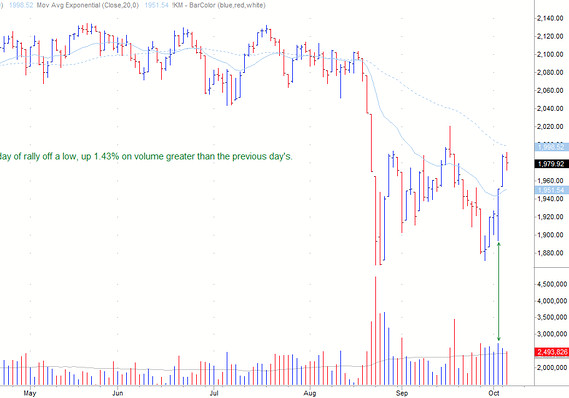 Chart created using TradeStation. ©TradeStation Technologies, 2001-2015. All rights reserved.
Others may have their own interpretation of the value of an FTD — some looking on it as some kind of magic potion – but the view here is that seeing one simply increases the probability of a new advance beginning.
Any FTD must be combined with an analysis of stock leadership. To wit, are there stocks building and beginning to break out of bases? That is the key question.
The answer is that there are relatively few growth stocks offering pattern setups with valid entrance points. A market in need of repair takes time for broken charts to be rebuilt. The good news is that some of the quality growth titles that large investors favor, e.g. Amazon.com AMZN, +0.65% Facebook FB, -0.73% Starbucks SBUX, +0.19% and Under Armour UA, -0.86% hold up nicely, a positive omen.
Among the names, LGI Homes LGIH, +3.56% is an emerging-growth homebuilder focusing on Sun Belt markets like Texas, New Mexico, Arizona, Florida and Georgia. The company went public nearly two years ago at 11.00, and Tuesday logged a record high of 30.37.
Most analysts forecast earnings growth of 71% this year and 26% next. Top-line growth has been 66%, 59% and 49% in the last three quarters, respectively.
The stock has a 99th percentile rank for relative price strength over the past year, while...
More