Field service provider Archrock, Inc. AROC recently agreed to buy the remaining outstanding units (around 41.3 million units) of Archrock Partners APLP for $607 million in an all-stock transaction.
Per the deal, the unit holders of Archrock Partners will receive 1.4 Archrock shares for every unit they hold. This marks a 23.4% premium to the partnership's Dec 29, 2017 closing price. Although Archrock expects the move to boost its financial strength, the company saw its shares fall 4.8%. This reflects that investors don't think the huge premium to be justified. On the other hand, Archrock Partners' units rose 16.4% following the news.
Archrock is expected to issue around 57.8 million shares for the deal. It represents about 44.9% of the total outstanding shares of the combined company. Notably, Archrock expects the combined company to have cash available for dividend coverage ratio of more than 2x through 2020. The deal is expected to be over in the second quarter of 2018.
The acquisition will likely be immediately accretive to Archrock. Moreover, after the completion of the deal, the company will not have to pay federal income taxes till 2023.
About Archrock
Archrock is a provider of natural gas contract compression services and is also a supplier of aftermarket services of compression equipment. The company operates in the oil and gas producing regions primarily in the United States. Archrock is based in Houston, TX. Notably, the company had $3 million in cash and equivalents as of Sep 30, 2017 and a long-term debt of $1.4 billion.
The company has lost 27.3% in the past year compared with the 26.5% decline of its industry.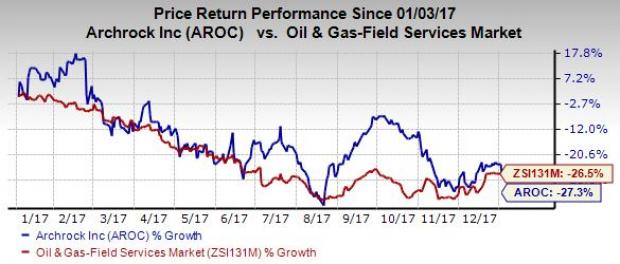 Zacks Rank and Stocks to Consider
Archrock has a Zacks Rank #5 (Strong Sell).
Some better-ranked stocks in the oil and energy sector are Northern Oil and Gas, Inc. NOG and Delek US Holdings, Inc. DK. Both these companies sport a Zacks Rank #1 (Strong Buy). You can see the complete list of today's Zacks #1 Rank stocks here.
Minnetonka, MN-based Northern Oil and Gas is an independent energy company. Its sales for the fourth quarter of 2017 are expected to grow 54.5% year over year. The company pulled off an average positive earnings surprise of 175% in the last four quarters.
Brentwood, TN-based Delek is an integrated energy company. Its sales for 2017 are expected to increase 44.7% year over year. The company delivered a positive earnings surprise of 19.1% in the third quarter of 2017.
Investor Alert: Breakthroughs Pending
A medical advance is now at the flashpoint between theory and realization. Billions of dollars in research have poured into it. Companies are already generating substantial revenue, and even more wondrous products are in the pipeline.
Cures for a variety of deadly diseases are in sight, and so are big potential profits for early investors. Zacks names 5 stocks to buy now.
Want the latest recommendations from Zacks Investment Research? Today, you can download 7 Best Stocks for the Next 30 Days.
Click to get this free report
Archrock Partners, L.P. (APLP): Free Stock Analysis Report
Delek US Holdings, Inc. (DK): Free Stock Analysis Report
Archrock, Inc. (AROC): Free Stock Analysis Report
Northern Oil and Gas, Inc. (NOG): Free Stock Analysis Report
To read this article on Zacks.com click here.
Zacks Investment Research