Copper prices shifted from a bearish trend to a neutral one in the beginning of 2016. However, since it tagged 2.3, it has been trading in a falling channel as we can see in the daily chart.
Copper Daily Chart 7/26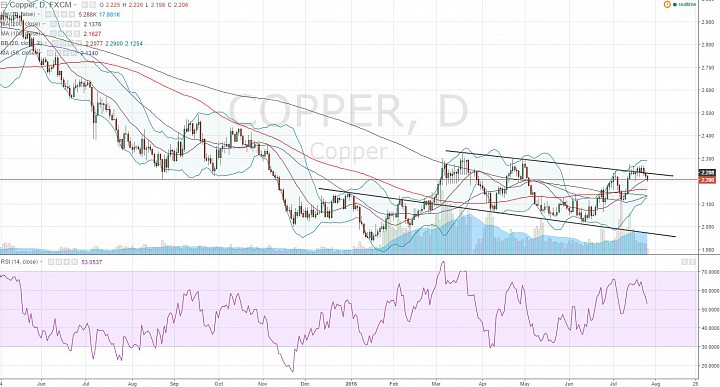 (click to enlarge)

Possible Breakout:
- As we can see in the daily chart, price tested the channel resistance, fell towards 2.10, but surged again to crack the resistance.
- It looks like a possible bullish breakout is taking place. 
- However, if we look at the smaller time-frame, it looks like the market is putting in a price top against this bullish breakout attempt.

Copper 4H Chart 7/26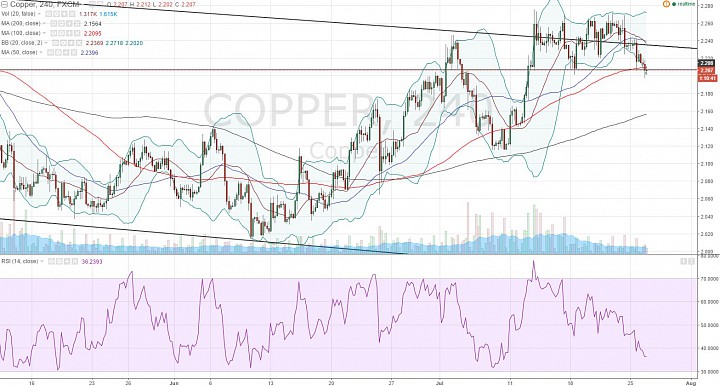 (click to enlarge)
Possible Price Top:
- The 4H chart shows that price is stuck under 2.28. 
- There has been some consolidation below 2.28 but above 2.20.
- However, price is cracking that support area around 2.20. 
-It looks like a possible price top has formed. 
- This means a failed bullish breakout attempt, which can translate into a bearish mode, at least within the falling channel seen in the daily chart. 
- The first, conservative bearish target would be the 2.12 area - July's low. 
- Below that, the 2.0-2.02 area would be in sight. 

Central Pivot:
- It looks like there is a cluster of resistance around 2.24: a previous pivot and 50-period simple moving average.
- 2.24 also represents the central pivot of the "price top".
- A break above 2.24, or 2.25 could challenge the price top and invalidate the bearish outlook.
- In this scenario (a break above 2.25), we should anticipate further extension above the current high, to test 2.3 with 2.4 in sight as well. 
- 2.4 will be a key pivot so let's limit any bullish outlook in the short to medium-term to 2.4.