The latest BAC credit and debit card spending data is out and it is not pretty, and not just for the mid-level consumer who, as documented previously, has been tapping out ever since April as the following Gallup consumer spending chart shows...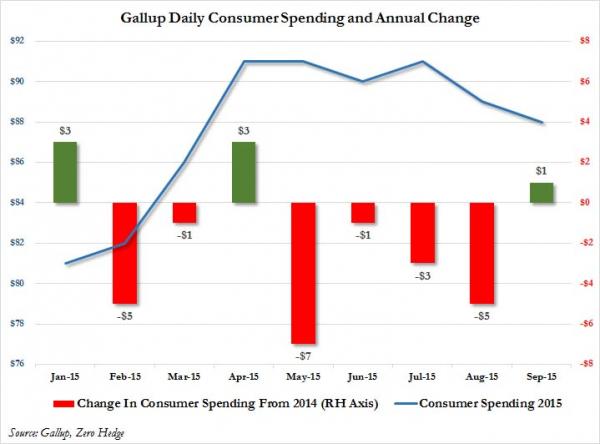 ... but also for the high-end.
While the data revealed a modest improvement in consumer spending in September, as retail sales ex-autos increased modestly 0.3% mom SA in September, this is only a partial reversal from the 0.7% mom SA decline in August.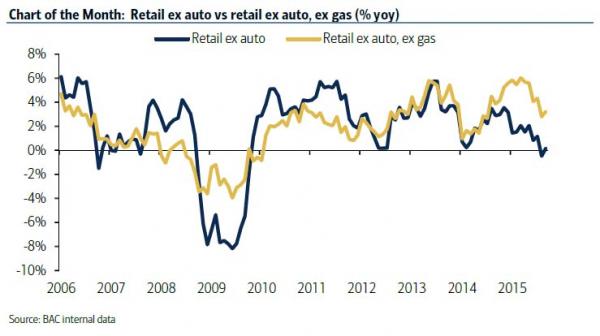 Additionally, in what may be good news for the stock market, if not the economy, the trend in BAC consumer spending has fallen below that of the Census Bureau, suggesting risk of weaker Census data when it is released next Wednesday, further pushing out a Fed rate hike.
But while the headline data is not pretty, it is the higher-end consumer that is suddenly at risk, with BofA noting that while sales at luxury apparel retailers are still up year over year, there has been a notable slowdown in the sales growth pace over the past four and a half years, following a marked recovery after the recession.
According to BofA: "The performance of the stock market and global growth are important determinants of sales at luxury retailers, which suggests to us some caution going forward. We also note that spending on travel, which includes airfares, cruises and hotels, has looked strong relative to other categories."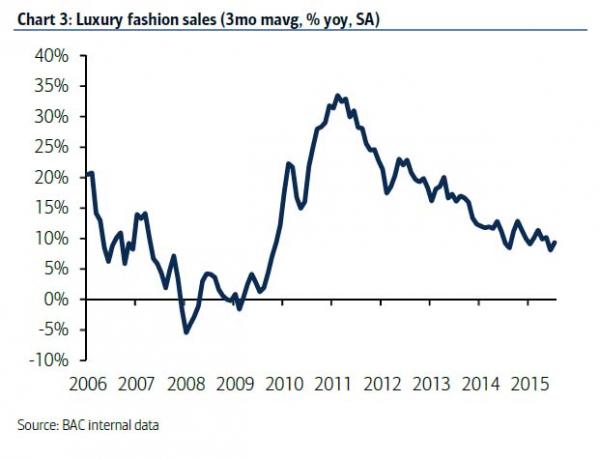 BofA also notes that the luxury goods sector is facing structural headwinds such as reduced revenue growth, increased competition and greater digital transparency.
Then, in addition to luxury fashion sale, BofA looks at that other staple of the higher-end consumer, spending on travel which includes airlines, lodging and cruises.
While the growth rate in this categiry accelerated through 2014 to reach a cyclical high in early 2015, more recently, growth has started to slow. Is this merely correlated with the stock market? If so don't be surprised to see it roll over in the coming months with a 2-3 month lag to the S&P 500.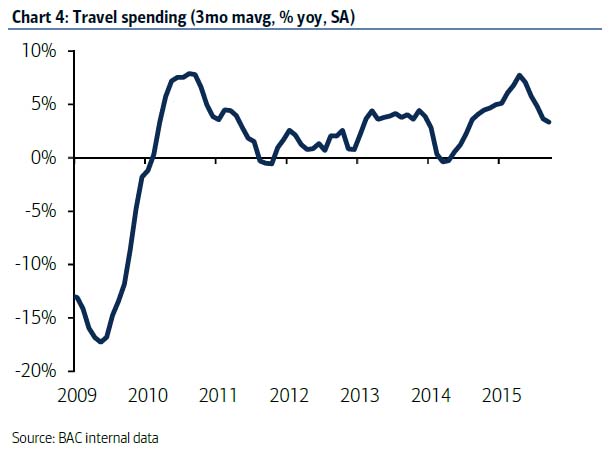 So what may be the marginal factor that determines the fate of high-end spending? The answer should surprise no one: Apple.
According to BofA "September is becoming synonymous with Apple releases. The latest version of the iPhone was released in September, helping to boost electronic sales, which is typical for such releases, as the chart shows. According to press reports, there were 13 million of the newest iPhone models sold. While electronic store sales were up 1.1% mom SA based on the BAC data, this is more muted than in prior Apple releases. We may see an additional boost into October. If iPhones were preordered in September but not ship until October, the sale would show up in October data."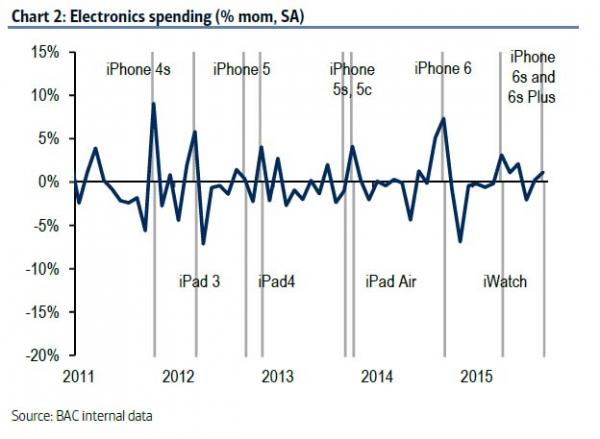 Or, if the high-end spender is indeed tapped out, then not even the new iPhone can save this most important and largest, amounting for about 70% of total, component of GDP.
Keep a close eye on the high-end spender. If, as we supposed, it correlated closely with the S&P 500, then this could well be the determining factor that decides whether or not the US slips into recession as soon as next year.