Earnings
Look for Disney DIS, -0.22% to pull back, after it reported a profit rise but disappointed on the revenue side. DreamWorks DWA, +0.35% surged 17% last night after results beat expectations, so potentially more gains there.
The buzz
Alibaba BABA, -0.02% and Chinese Internet TV platform Youku Tudou YOKU, -0.33% are merging. Shares of Yoku are up about 10% in premarket, while Alibaba isn't doing much.
Heard of Cellectis CLLS, +17.91% ALCLS, +8.75% ? U.S-listed shares of the French biotechnology company got a boost after a new gene-editing treatment put a baby girl's leukemia in remission. They're up about 2% again this morning.
United UAL, +0.02% says its president and CEO, Oscar Munoz, who had a heart attack last month, will return in early 2016.
This is the week that has turned Facebook FB, +4.64% doubters into the faithful. Here's why more than two dozen analysts raised price targets on the stock.
The quote
"We have to really work on what to call him." — Hillary Clinton on "Jimmy Kimmel Live", discussing a title for her husband, former President Bill Clinton, if she wins the election.
The chart

The stat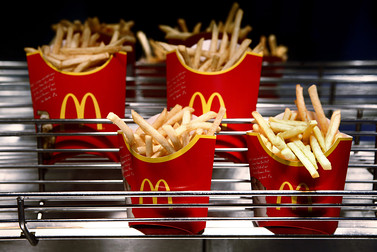 $79 — That's how much large fries will cost you at a McDonald in Venezuela, based on the strongest of the country's official exchange rates. On the black-market rate, the fries cost about 64 cents, but in any case are about 20%...
More