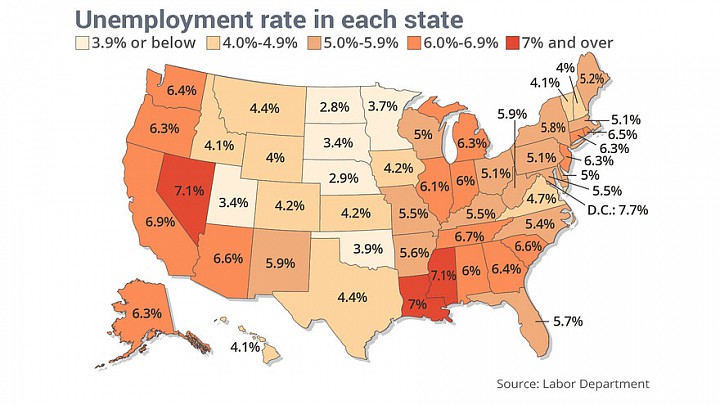 Unemployment rates have fallen most sharply over the past year in Illinois and Rhode Island, although the percentage of people without jobs in those states remains above the national average.
And while unemployment has fallen sharply across the U.S. amid the strongest stretch of job creation since the mid-1990s, the jobless rate rose in two states in the 12 months to January, according to Labor Department data released Tuesday.
Overall, about half of the 51 U.S. states and the District of Columbia posted declines in unemployment rates in January over December, and the rate held steady in another third. The jobless rate rose in eight states.
North Dakota once again had the lowest unemployment rate in the nation — a measly 2.8% in January. The last time another state claimed the lowest unemployment rate in the country was South Dakota — in July 2008.
North Dakota, of course, has benefited from a well-documented shale-oil boom. But a huge plunge in oil prices CLJ5, -2.88% could push the rate a bit higher in coming months if work slows, as many industry experts predict.
Nebraska was the only other state to post a sub-3% reading. The rate, at 2.9%, fell from 3.1% in December. (State unemployment data are released with one-and-a-half-month delay).
The highest unemployment rate, meanwhile, was in Washington, D.C., at 7.7%, followed by 7.1% in both Nevada and Mississippi. The national jobless rate stood at 5.7%, down from 6.6% a year ago.
In Illinois, the jobless rate fell to 6.1% in January from 8.2% in January 2014. The rate dropped to 6.5% from 8.6% in Rhode Island. The economies of both states are fairly diversified and not heavily reliant on one key industry.
Just two states, Louisiana and South Carolina, saw unemployment increase over the same time.
Louisiana's rate jumped 1.5 percentage points to 7% from 5.5% a year earlier, reflecting in part how the slump in oil prices has hurt the energy-intensive state. Sharply higher unemployment may have also put the kibosh on the prospects of Republican Gov. Bobby Jindal entering and winning the party's 2016 presidential nomination.
Unemployment in South Carolina rose more modestly, to 6.6% from 6.3% a year earlier.
Jeffry Bartash